Meera – The Soul Divine in the US
Finding Meera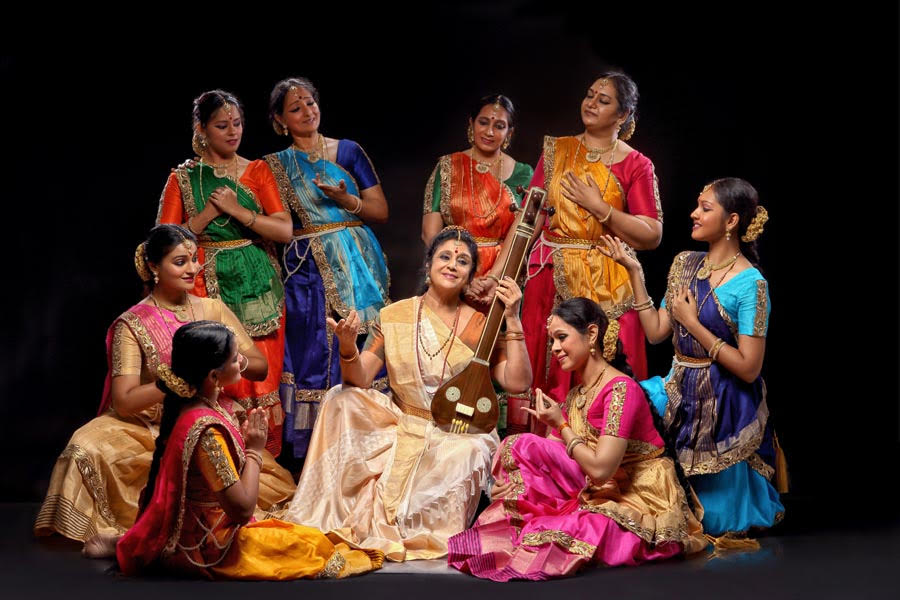 Mid-August through September, auditoriums across the nation will feature a newly debuted dance drama, Meera – The Soul Divine. Most of its attendees will need no introduction to contextualize the two artists that worked together in this venture: both Smt. Chitra Visweswaran and vocalist Smt. Bombay Jayashri are renowned artists. In fact, by 1992, Smt. Visweswaran had touched so many lives that she was bestowed one of the highest civilian awards, the Padma Shri, by the Government of India to honor her contribution to the arts. One late night, I delved into the story of the legendary storyteller herself.
Maintaining sanskruthi while defying limitations
My story goes like this: an Indian family moves to a foreign land following a job. There, parents carefully orchestrate the presence of sanskruthi, or Indian culture, in their children's lives. It's an all-too-familiar narrative for the stratum of the latest coming-of-age Indian-Americans and their families, who will fill much of Meera's seats. However, it's also the story of the legendary danseuse Smt. Visweswaran, who belonged to a much earlier diasporic wave, at a time where such a life outside of India (and the accompanying exposure) was not nearly as common.
When I hear her speak about her childhood, I understand how the diversity of her experiences must have contributed to the power that she now wields as a master storyteller. Before the interview begins, she asks someone to bring her a chair—here, I hear the very familiar voice of a strong Indian matriarch. When she describes her early childhood in Kolkata—her very first memories of Meera: how her mother would sing Meera bhajans to her, and how she began consuming Meera's poetry as a young maiden—her Hindi is organic, and her English syntax is reminiscent of a cultured Bombayite. She seamlessly transitions in and out of the seasoned Chennaiite when she explains how decades ago, Indians who were native to but not living in the South, would tune into the legendary voice of M. S. Subbulakshmi to bring back the feeling of home. Fondly, she recounts how they all "used to just revel in M.S. Mami's voice." As she explains to me how "Meera bhajans formed a very large part of [M.S.'s] repertoire," I hear the guru in her. Later, when ironing out logistics with my mother, she effortlessly speaks the soft Tamil one associates with a warm relative. Yet, every role still rings to be authentic. Perhaps, because she has truly lived them all.
Being an employee of the Indian Railways, her father would move the family to London for her early childhood. Here, Smt. Visweswaran danced her first steps under the tutelage of her mother. "You know, how in the States, you hold on to your kalacharam – our culture –because one is away from India? That was the same thing in England – my mother wanted to keep me close to our dance, music, and culture. She took me to the legendary dancer Ram Gopal, in London. She wanted him to teach me dance. But he said at three, I was too young to learn bharathanatyam!" she says, with laughter in her voice. Refusing to give up, Smt. Visweswaran's mother instead began training her own daughter, by passing on what she herself was learning; simultaneously, she was also taking her daughter to ballet lessons in London
Smt. Visweswaran's prolific choreography career began when she composed a varnam (arguably one of the most demanding bharatanatyam compositions), at the tender age of thirteen— an age when most dancers will just begin their serious practice. Defying both the traditional protocol that discourages diversity in training, and the alleged northern versus southern cultural dichotomy of Indian culture, Smt. Visweswaran also trained in other dance forms such as Manipuri and Kathak, as well as the rare Rabindranritya, a dance form created by the celebrated Indian poet, Rabindranath Tagore, who penned the unofficial Indian anthem, "Vande Mataram."
Poetry in all languages seems to have attracted her from childhood; having been a product of the Indian education system herself, Smt. Visweswaran had to learn three languages in school. But Meera's poetry seems to have always occupied a special place in her heart. Meera represents a practical manifestation of the same esoteric eastern philosophy that is occupying a more and more real estate in the western philosophical world. A young Smt. Visweswaran was greatly captivated by Meera's philosophy. She paints a vivid picture for me: "When you think of it, Meera probably bathed in rose water and rose petals, scented water . . . and was looked over and cared for hand-and-foot, by her handmaidens. She's a princess. And this woman—by that time, a young woman— who had lived in the lap of luxury, was choosing to instead live like any village maiden. She was dancing and singing the praises of Krishna in the streets." Her voice lulls me into closing my eyes. For a brief moment, I not only see a radiant princess dancing, but for the first time, I smell her too. She smells like roses. "I think that the experiences and richness that you have imbibed from all art forms helps you to be more communicative," she says. I am inclined to agree.
Inclusiveness: Finding profundity in simplicity
Bharatanatyam can be unfamiliar to many, being an exclusive phenomenon of privilege, and that too usually of South India. However, I expect this production to defy this. Both herself and her co-producer vocalist Smt. 'Bombay' Jayashri Ramnath – as the name suggests – have spent time living north side. Already being fêted artists, neither of them faces a pressure to appease any limiting understanding of South Indian classical arts. Meera, being a princess of the Ancient Indian North, would not have come across a veena or a gottuvadhyam, says Smt. Visweswaran. So why would one find it in a drama depicting her life? To this extent, the instrumentation contains aspects of the typical south classical dance orchestra: there is the nattuvangam, the mrudangam, and the flute; however, one will also hear the north Indian classical sitar, shehnai, and saarangi. Even the oft-dismissed realm of Indian folk music is called upon, with the sounds of the dolki. Such an amalgam is sure to be familiar to a pan-Indian audience, excluding none.
She says of Smt. Jayashri: "we really went hand-in-hand, in this journey." At every step of the composing process, Smt. Jayashri would consult with her senior producer. Would this disturb the dance? Will it truly resonate with Meera they both knew and loved? Despite having already studied the costumes of that era, Smt. Visweswaran revisited her notes and paintings to construct a wardrobe "which is not unfamiliar to the body of the bharatanatyam dancer, but is yet sourced from North India." And so together, these masters of South Indian classical dance and music carefully reconstructed the ambience and ethos of the North Indian princess and saint in the hopes that we, too, will irrevocably fall for her.
I wonder out loud to her if a non-Indian audience will be able to understand the production, in all of its detail. Of course, she says. At some point, "you realize and understand how to present it to an audience that is not born to it."
"See, because dance is finally a tool of communication. The languages of the lyrics don't really matter very much! If you can really communicate, and put the meaning of what you're dancing into your body, into your mind, and into your soul and communicate that – it just becomes a language in itself." I am left with the thought that profundity bows only to honesty, and does not always resonate with a virtuosic showcase of complexity. I am reminded of how early on in the conversation, she had said to me: "the point is, the language in Meera's poetry was always easy to understand."
The Search
One imagines that the previously uninitiated will leave the auditorium seeking to learn more about Meera, post-haste. I ask if there are specific resources that she advises we get acquainted with. She signals someone – presumably the chair-fetcher – to go get her "Meera bag." I wonder to myself if the bag is magical, à la Mary Poppins. Perhaps Meera herself is carefully tucked away in it?
There are many books. But she warns the young reader that there is dissonance in the community of hagiographers, on the specifics of Meera's life. "Some of it is legend, and some of is history." She advises that we instead "handle the subject as the journey of her soul," and suggests that focusing on her poetry is a good way for one not to become muddled in the arguments surrounding the specifics of her history. Both herself and Smt. Jayashri carefully circumvented this issue by instead reconstructing Meera's narrative through her own poetry: "situations in her life which she has described, in her own words, are what [they will be] using" in this production.
She expands: "I don't think it's important when you discuss such a great spiritual beacon of light to bother about whether she halted here, or halted there, or who saw her, or who heard her. I think it would suffice to focus on the poetry and realize how there was this quest within her." She calls this thirst for knowledge on the divine 'the search,' and seeks to explore and depict how it played out in Meera's life.
For many of us, the eminent guru of Vedanta, Swami Dayananda Saraswati, played a significant role in our personal philosophical searches. Despite swimming in an endless sea of accolades, Smt. Visweswaran is able to sharply remember a title bestowed upon her by Swamiji: "Arsha Kala Bhoshanam." Out of her respect for him, coupled with her deep-running love for Meera, she accepted the invitation to create this work.
A philosopher and teacher, Swamiji founded the Arsha Vidya Gurukulam institution and its sister non-profit organization, AIM For Seva, through which free student homes are built in rural India, in the hopes of bridging life between mainstream society and the relatively underprivileged. About 14,000 children, across 16 states of Indian villages, have already seen the benefits of this movement. It empowers rural children through the providing of a safe place to live in that is close to their schools. With a clean environment and a steady supply of nutritious food previously unavailable to them, the hope is to aid them in their own 'searches.' Proceeds from this production customarily go to support this endeavor. Not that I really needed another reason for looking forward to it. [
Meera – The Soul Divine in the US
The evergreen story of princess-turned saint Meera is part of the fabric of Indian mythology, and by extension, its culture and life. Ganavya Doraiswamy speaks to seasoned storyteller and renowned danseuse Smt. Chitra Visweswaran on her latest production, Meera – The Soul Divine, which is slated to hit 17 American cities this upcoming fall.
For a full schedule, visit: www.meerathesouldivine.com
Meera in ft. Lauderdale is on Friday September 23, 2016 @ MiramarCultural Theater.
For more details, please visit http://aimforsevausa-public.sharepoint.com/contact-us-(2)/fort-lauderdale-fl or call Vidya at 954-680-2108.
Author Bio
Ganavya Doraiswamy holds degrees in psychology, and theatre, and graduate degrees in performance (Berklee College of Music), and ethnomusicology (UCLA). During her childhood in South India, she trained in bharatanatyam, Karnatik vocal music, the veenai, and in particular, singing abhangs. She hopes to reignite interest in a near-extinct instrument that her grandmother Kalaimamani Seetha Doraiswamy championed, the jalatharangam. She is currently on tour as the vocalist for Tocororo, which recently hit #1 on jazz charts, and was co-produced by the legendary Quincy Jones. For more information: www.ganavya.com