Chowpatty Restaurant
One of the largest South Asian catering companies nationwide, Chowpatty Restaurant, Chowpatty snacks and sweets, and Chowpatty catering encompass the culmination of over 25 years of hard work & dedication to providing excellence. Founded by Chandrakant and Late Sushilaben Patel, Chowpatty is in fact one of the longest family owned and operated businesses on Oak Tree Road. Chowpatty has grown and matured with years of rich history pioneering the Restaurant, Catering, Sweets/Snacks Industries. We specialize in all cuisines—from South Indian to North Indian, from Indo-Chinese to Indian inspired twists of classical Italian dishes, & much more. We strive to help our clients make any occasion a memorable one.
SOCIAL MEDIA




25 YEARS OF EXCELLENCE IN CATERING !
The internationally renowned Chowpatty Caterers of Iselin, New Jersey bring you the highest quality Indian catering for every special occasion anywhere in the United States. We specialize in the ultimate savory sensations of Age Defined Indian Culinary Artistry. Millions of Indians in USA would willingly vouch for our Professionalism, Service and Quality that they have tried, tasted and experienced over past 25 years. Our eternal promises of ultimate satisfaction for our diehard patrons have stood the test of time and continues to be our strength.
A FAMILY TRADITION OF FINE QUALITY
In August 1990 the dream to bring pure and authentic Indian Culinary Artistry in America came true when we inaugurated Chowpatty Restaurant & Caterers on Oak tree Road. Our concept always has been to serve taste, quality and quantity of Top Shelf standards, which was established as our fundamental principal since very beginning. With every member of our family personally supervising this philosophy year after year, today we cater the best Indian food in America. In 1992 we introduced another sparkling feather, now prominent Chowpatty Snacks and Sweets Shop. Chowpatty Caterers and Sweets together presents Hundreds of Items, Sweets and Desserts to choose from. Chowpatty can cater anywhere in USA up to 10,000 people specializing in North Indian, South Indian, Marathi, Gujarati, Bengali, Indo-Chinese, Italian and Mexican Fusion food. For last 25 years Chowpatty has catered to the needs of millions for parties, weddings, baby showers, conventions, gathering, religious ceremony and many more occasions.
Photo Gallery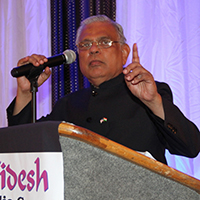 2017Desh Videsh Media Group Community Leader Awards Gala On Saturday, August 26, 2017, Desh Videsh Media Group hosted the 3rd Annual Community Leader Awards at the Sawgrass Inn & Conference Center. The local community came together for an evening of speeches, dinner, and music creating an atmosphere that was both festive and celebratory. Over 24 years ago, Desh-Videsh began with …
0 comments