Occasions By Shangri-La
At Occasions by Shangri-La, we believe each event is an expression of a couple's style and personality. We bring elegance and grandeur to every event we design. We are renowned for cutting edge and innovative design, respected for our ability to deliver visually stunning events with unparalleled attention to the finest of details and simply, transforming ordinary into extraordinary.

We promise to make your event be an individual expression of your taste and vision!
SOCIAL MEDIA



We at Occasions by Shangrila understand that planning your event takes time, effort and a lot of patience! That is why we offer a full service unique, creative and personalized special event service
We take the full burden off of you and join in a fun partnership together to make this day the one you always dreamed of.
As a company, we have frontiered the market in designing and creating traditional and fusion indian decor structures for weddings and special events. We travel around the country and world to find the perfect textures and structures to make sure we lead the market in new, unusual & avant-garde ways.
We promise to make your event be an individual expression of your taste and vision.
Whether you want a dramatic impact or simply elegant event, our specialists are highly trained and regarded and will make your vision a reality. In the wedding business we are highly regarded for our zealous customer service, innovative and cutting edge design concepts and unmatched attention to detail on every event no matter how small or large.
For weddings, we believe in combining your wedding fancies and stylistic personality and producing a flawless event.
For Corporate events, we combine your vision with our expertise to produce a flawless corporate event.
Video Gallery
Photo Gallery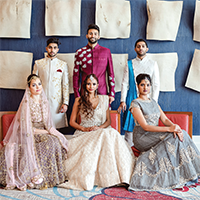 2018 MyShadi Bridal Expos: Year in Review 2018 was an exceptional year for MyShadi Bridal Expos. This year, four shows took place across the Southeast United States, and Desh Videsh Media Group is proud to be the sponsor for these one-of-a-kind events. Raj Shah, co-founder of Desh Videsh Media Group, shares, "Aruna and I founded Desh-Videsh magazine years ago because …
0 comments