2009 Year in Review
2009 was a very exciting year for Desh-Videsh, and it certainly seems like the year flew by very fast. Thanks to all of readers, we achieved several milestones in pursuing new projects as well as in being able to improve upon current endeavors. Throughout the past year, we covered a wide variety of topics Desh-Videsh ranging from politics, weddings, charity organizations, religion, sports, entertainment, education and last but definitely not least, health. A few new sections have even been added to Desh-Videsh based on feedback received from our readers.
One of the most uplifting stories of the year was about Prime Minister Manmohan Singh's visit to the United States. During his first state dinner, President Obama opened his welcome speech with an appropriate saying in Hindi, "aap ka swagat hai." Judging from the crowd of over 300 guests, it was very evident that President Obama and Washington insiders consider India an important country when it comes to economics as well as politics. Presidents Bush and Obama have recognized that the two nations still have much work to do to strengthen the relationship between the two nations. President Bush certainly made a good start when the nuclear treaty was signed, and President Obama has demonstrated an interest in giving a voice to the citizens of India.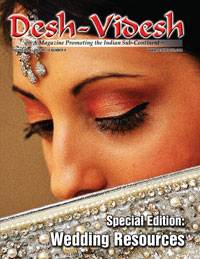 Weddings, Weddings, and More Weddings
We have all no doubt noticed the significant increase in the number of weddings in our community. We covered this exciting topic in two special editions, the first in March and the other in August. Weddings in the South Asian community certainly have evolved. From simple, one-day weddings to those that are a three to four day extravagant affair, weddings are nothing like they were 20 years ago. Brides, grooms, and their families will stop at nothing as they plan their weddings. The wedding resource special edition featured a host of articles to help brides and grooms shape the moments leading up to a stress-free wedding. The articles provided couples with tips on how to play a wedding on a budget. Brides and grooms can share their big day with loved ones without putting a strain on their wallet! Other articles focused on the finer details of weddings. We all know that weddings, especially Indian weddings, would not be complete without ornate jewelry. Brides read about ways to achieve a contemporary look by wearing traditional bridal jewelry.
A concise, but complete wedding planning guide that included everything a couple would need to plan a perfect wedding was also part of the resource guide. The guide serves as a great reference tool, and it included information on how to choose the perfect venue; how to pick the right photographer who will capture special moments, and a directory listing of relevant vendors.
In keeping with the tradition of involving community members and readers, we sponsored a contest that requested newlyweds to submit their wedding stories and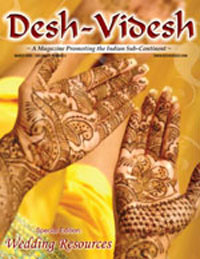 photographs. We received several entries for each category, and it was very difficult for our editorial team to decide on the winning entries. After much deliberation, the team unanimously picked Annvi Shah, from Atlanta, as the lucky winner.
Bridal Shows
It was very exciting to venture into a completely new area, the My Shadi Bridal Expos. The Bridal Expo is a cultural event showcasing traditional products and services essential for Hindu, Muslim, Christian, and Shikh weddings. We hosted two shows in 2009, one in South Florida in May and the other in Orlando in September. Both shows received tremendous response not only from vendors, but also from brides, grooms, and their family members.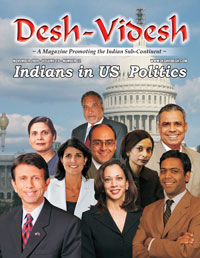 Movers and Shakers
Throughout 2009, Desh-Videsh has had the pleasure of reporting about the varied successes of Indians living in the United States. While Indians have become successful in a variety of fields such as science, education, and in business, in the November issue, Indians who have entered a field that is not very easy to enter – American politics – were featured. From local government all the way to Washington, DC, Indians are running for local city council seats, aiming high for the position of governor, or serving in President Obama's administration.
Once again, we were very pleased to bring you a special edition of Desh-Videsh that focused on Education, a very important issue for all South Asians living in this country. As South Asians, we have made name for ourselves in this country as well as in other western countries, when it comes to education, mathematics, and technical fields. This leadership shows as evidenced by two appointments by President Obama of Vivek Kundra as Chief Information Officer and Aneesh Chopra as Chief Technology Officer.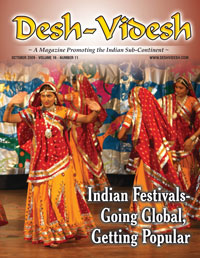 For sometime, the editorial board has wanted to do a focus piece on the success of Indo-Caribbeans living in the United States. When I attended the Divali celebration in Coral Springs, Florida, last October, I was totally impressed by the dedication of our brothers and sisters who left India years ago, but have still kept the culture alive. At that point, I realized doing this story was of the highest priority, and so it was with great pleasure that we did so in the December issue.
Each year, the National Ethnic Coalition of Organizations honors successful immigrants at a special ceremony on Ellis Island in New York. This year it was even more exciting to report about this annual celebration since two Indians from Florida were chosen as honorees.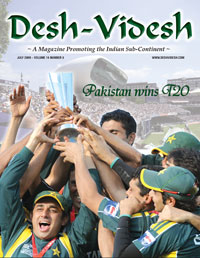 In the entertainment field, it was exciting to watch Anoop Desai, a young and talented Indian American, participate in the television show, American Idol, as one of the top 13 contenders. While he did not win the coveted title, Desai is still a winner in the hearts of many around the country. Moving to across the big pond, one certainly cannot forget 13-year-old Hemant Brijwasi from Mathura, who was the winner of the popular television reality show Sa Re Ga Ma Pa Little Champs 2009 presented on ZEE TV USA. It is amazing to see such young and talented kids performing on national television.
As a South Asian cricket enthusiast, the fact that two South Asian teams, Pakistan and Sri Lanka, made it to the finals in the 2009 T20 Cricket World Cup a very proud moment for all. In the end, the Pakistani team prevailed and the final winner. The August issue featured information about the T20 series as well as about the win for Pakistan.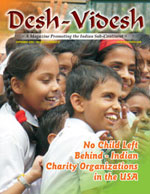 Speaking of proud moments, once again, an Indian won the trophy for the National Spelling Bee in 2009. These days, when one thinks of the National Spelling Bee, one is sure to conjure the image of an intelligent Indian American student excelling!
The September issue of Desh-Videsh featured an article about Indian charity organizations that work very close with children in India. This is a cause that is very near and dear to my heart. Once again I commend everyone who supports these organizations, whether as a staff member, volunteer, or donor. It is a very noble cause, and certainly one worth supporting.
Finance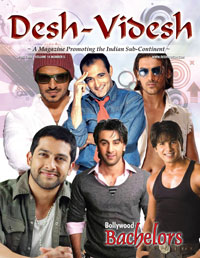 During this time of economic stress, Desh-Videsh brought readers timely and important articles including "Financing Global Crisis," "Retiring in America," and a new regular column, "It's your Money." These articles aimed to ease stress and tension, something we all feel during times of economic difficulty.
Here We Come 2010
We are ready for an exciting 2010 and hope are readers are energized as well! This year is going to be full of challenges, but also full of opportunities. I would like to remind readers that Desh-Videsh is your magazine. It is only with your support and feedback that we have been able to grown steadily over the years. We certainly hope you will continue to support our efforts for many years to come!