2013 script National Spelling Bee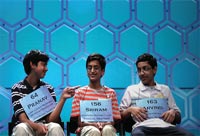 The Scripps National Spelling Bee is an exciting annual event that tests the spelling quotient amongst budding talents. Each year brings new challenges and heartbreaking close calls. Brought to a fever pitch by a group of students who excel over a wide range of personal interests and dreams, this year's event was a dynamic clash between the top three spellers, all of whom were Indian. The 2013 Scripps National Spelling Bee tested composure, wits, and knowledge of vocabulary. Always a cheerful and challenging learning experience for the students and parents involved, this year many families and fans were on the edge of their seats due to the suspense and excitement the competition invoked.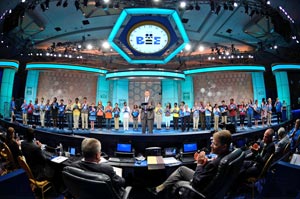 The Bee
The first afternoon, 42 semifinalists warmed up the stage and each had advanced based on ranking calculated by a formula that combined each participants score based on a computerized spelling and vocabulary test, conducted in two on stage rounds.
The 2013 vocabulary test was new, and many spellers were eager to take on this challenge and use it to their advantage. Others were not as enthusiastic as the news came just seven weeks before the competition began rather than at the beginning of the school year, which otherwise would have given them an opportunity to prepare. For most, this new stimulating test was accepted with praise for its simplicity. In the end, most lauded the test's potential to gage a student's knack for vocabulary.
The new vocabulary exam consisted of two multiple-choice tests- the first was held during the preliminaries and the second during the semifinals. The exams were administered in a quiet room away from the direct glare of on stage participants and audience. The final challenge remained the same; no vocabulary, just spellers making their lips, minds and vowels dance to the beat before the closing bell.
14-year-old Indian American Vismaya Kharkar of Bountiful, Utah, tied for fifth place in the competition and he said, "It was kind of a different challenge." He shared that he had been focusing and studying spellings for yearend it is the reflection of his hard work that he has earned a place at this prestigious event. He says, "In-depth knowledge about language is not only essential to communicate and express, but is also an important source that will lead today's youth to gain more information and wisdom."
The Winners
The students making the top three cut this year were all Indian Americans. Incredibly, eight of the top eleven positions were held by Indian Americans.
The winner of the 86th Scripps National Spelling Bee, thirteen-year-old Arvind Mahankali from New York, displayed his bold efforts and skill with which he overcame his German curse and turned it into a German blessing. Previously, in 2011 and 2012, Arvind placed in third both times and was eliminated after being given German-derived words. This year, as Arvind faced the challenge of one word derived from German in the finals, he answered with a wry smile. The word that won him the spelling bee was also a Yiddish word derived from German – Knaidel, another term for a matzo ball. As the winner, Arvind not only garnered a cash prize of $30,000 and a huge cup-shaped trophy, but a local restaurant also earned named a dish after him – the Arvind mini Knaidel!
Arvind, an aspiring physicist and fan of Albert Einstein, has now become the sixth consecutive Indian American champion and the 11th Indian American champion in the past 15 years.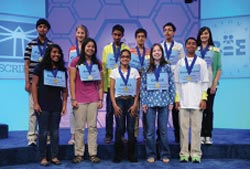 The second place winner, 13-year-old from Tower Lakes, Illinois, Pranav Sivakumar, rarely hesitated when answering his questions. He bowed out on the word cyanophycean (blue-green algae). Pranav is interested in Latin, astronomy and astrophysics. He participated in two previous Scripps National Spelling Bee competitions.
An avid musician and passionate sportsman, 13-year-old Sriram Hathwar of Painted Post, New York, finished third. Sriram plays the oboe in a jazz band and can chant Sanskrit hymns while simultaneously playing the piano. In 2011, he was called on stage by the promoters of TEDx in Chemung River, where he delivered a talk on his experiences at the Scripps National Spelling Bee.
14-year-old Amber, an aspiring comedy writer from Massachusetts, took the fourth place position. Appearing for the first time at Bee was 11-year-old Vanya Shivashankar from Kansas. She tied for fifth with 14-year-old Vismaya Kharkar from Salt Lake City, Utah. Grace Remmer from Florida (14), Chetan Reddy from Texas (13,) and Symantak Payra from Texas (12), all tied for seventh place. Christal Scher meister (13) from Florida took 10th place. Nikitha Chandran from Florida holds the 11th place position, and she was admitted due her exceptional performance in the International Baccalaureate program.
Memorable Moments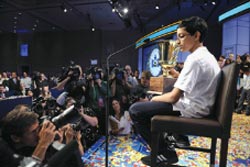 When Arvind received his first German derived word Dehnstufe a huge groan was emitted by the audience. Exploiting the moment (as this year he had practiced very hard to achieve mastery over German derived words) before giving the correct answer, he had asked with a wry smile, if he could know the language of origin.
An aspiring comedy writer and crowd favorite, Amber tripped out on the word 'Hallali' (A huntsman's bugle call). She had exclaimed at the last moment, "I know, I know!" but time had just run out.
Vanya Shivashankar, the youngest of the 11 finalists failed to become the first sibling of a previous winner to triumph. She tied for the fifth place when she misspelled the word Zenaida (a type of a pigeon). Not to worry though, this 11-year- old star shows the promise of a champion for future spelling bees. Her sister Kavya won the Bee in 2009.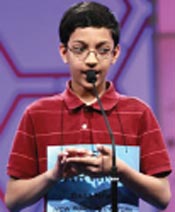 Speller No. 163, Arvind Mahankali, 1st place
Daily News, New York, New York
Age 13, 8th grade
School: Nathaniel Hawthorne Middle School 74
Hometown: Bayside Hills, New York
Arvind loves math and science and hopes to one day pursue a career as a physicist. That explains his choice of role model and the person he would most like to meet (Albert Einstein), but doesn't explain his favorite song ("I Believe I Can Fly"). A speaker of Telugu and Spanish, Arvind enjoys tennis, basketball and drama, and counts Novak Djokovic and Shaquille O'Neal among his favorite athletes. Arvind is making his fourth consecutive trip to the Scripps National Spelling Bee. He placed ninth in 2010 and finished in third place in both 2011 and 2012. Of all the words he's seen and spelled, his favorite so far is sardoodledom.
Speller No. 64, Pranav Sivakumar, 2nd place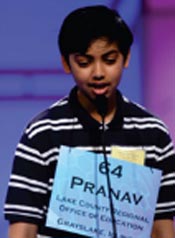 Lake County Regional Office of Education, Grayslake, Illinois
Age 13, 8th grade
School: Barrington Middle School – Station Campus
Hometown: Tower Lakes, Illinois
Pranav studied Latin for several years, and when he's learning new words, he finds it helps to make connections to this classical language. He loves the sciences, especially astronomy and astrophysics. This year, he won best research paper and best-in-category project in astronomy in the junior division of the Illinois Junior Academy of Science. Astrophysicist Subrahmanyan Chandrasekhar is Pranav's role model because the scientist wasn't afraid to stand up to the establishment and made key discoveries about massive stars. When not studying space, Pranav enjoys watching cricket, especially batsman Sachin Tendulkar. His favorite book is The Hitchhiker's Guide to the Galaxy, and he spends a lot of time watching the night sky and wondering what it would be like to travel among the stars. This is Pranav's third consecutive appearance in the Scripps National Spelling Bee; he tied for 27th place in 2011 and for 22nd place in last year's competition.
Speller No. 156, Sriram Hathwar, 3rd place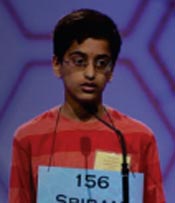 Corning Rotary Club, Corning, New York
Age 13, 7th grade
School: Alternative School for Math & Science
Hometown: Painted Post, New York
Sriram has a passion for skiing, swimming, skating and ping pong, and he also plays a pretty good game of badminton. He's an avid musician who plays oboe in a jazz band and can chant Sanskrit hymns while playing the piano accompaniment. Sriram's first time competing in the Scripps National Spelling Bee was in 2008, and he tied for 37th place in 2009 and for 6th place in 2011. In 2011, he delivered a talk on his Bee experiences at the TEDx Chemung River event in the Southern Tier of New York, where he lives with his family. For breakfast before every spelling bee, he eats oatmeal with berries, but just before the event, he snacks on M&M's Minis for luck. Sriram would love to go back in time to meet Gandhi to learn more about how to maintain inner peace while promoting world peace.
Speller No. 91, Vanya Shivashankar, 5th place tie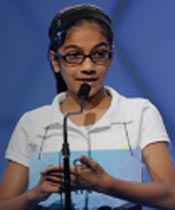 The Olathe News, Olathe, Kansas
Age 11, 6th grade
School: California Trail Middle School
Hometown: Olathe, Kansas
Vanya loves being on stage, whether it's playing the piano or tuba, singing, dancing, acting or – of course – spelling. She also enjoys swimming, bike riding and playing with Champ, her family's Labrador Retriever. Vanya earned two individual bronze medals at the 2013 regional Science Olympiad and hopes to pursue a career in cardiac surgery. An energetic girl with an infectious smile, Vanya is already making her third appearance in the Scripps National Spelling Bee, following in the footsteps of her sister Kavya, who was a four-time participant and the 2009 national champion. Vanya competed in the 2010 national finals, and tied for tenth place at last year's Bee.
Speller No. 256, Vismaya Kharkar, 5th place tie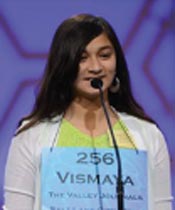 The Valley Journals, Salt Lake City, Utah
Age 14, 8th grade
School: Challenger School
Hometown: Bountiful, Utah
Vismaya is making her third consecutive appearance in the Scripps National Spelling Bee, and is looking to improve on her tenth-place finish at the 2012 Bee. She placed seventh at the state level of the National Geographic Bee and took first place in the Medicine & Health Sciences division of the Salt Lake Valley Science and Engineering Fair, earning an invitation to the international Broadcom Masters competition cheduled for August. Vismaya has been awarded a superior rating seven times by the Piano Federation, and she is a two-time recipient of the Presidential Physical Fitness Award. In her spare time, she enjoys watercolor painting, drawing, singing, reading and travel.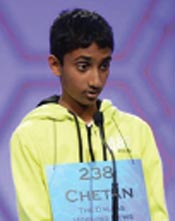 Speller No. 238, Chetan Reddy, 7th place tie
The Dallas Morning News, Dallas, Texas
Age 13, 8th grade
School: C.M. Rice Middle School
Hometown: Plano, Texas
Chetan prides himself on his sports skills, including basketball, cricket, badminton and table tennis. Cricket is his favorite and he's a member of the Dallas Youth Cricket League. His sports figures of choice also reflect his interests: his favorites are Indian cricketer Sachin Tendulkar and Dallas Mavericks star Dirk Nowitzki. Chetan also enjoys music and movies, and he's the captain of his school's Whiz Quiz team. Chetan is a seasoned veteran of the Scripps National Spelling Bee and is making his fourth consecutive appea-rance in the Bee this year. He has previously placed 27th in 2011 and tied for 22nd place last year.
Speller No. 242, Syamantak Payra, 7th place tie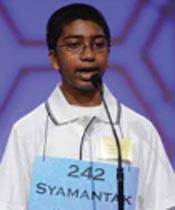 Houston PBS, Houston, Texas
Age 12, 7th grade
School: Westbrook Intermediate School
Hometown: Friendswood, Texas
Syamantak has a wide array of hobbies and interests. His favorite things to do include building computers, reading, playing music, swimming and playing ping-pong. He also loves building with Legos and is a licensed amateur radio operator. Academically, Syamantak participates in many competitions throughout the year, including science fairs and math club. He won a gold medal in the Physics/Astronomy division at his 2013 district science fair and placed third at 2013 Science and Engineering Fair of Houston. Syamantak also thrives in scientific and creative writing. He's published more than 12 poems and essays in anthology collections and magazines. He also won second place in the Scientific Writing Contest at the 2013 Science and Engineering Fair of Houston.
Speller No. 44, Nikitha Chandran, 11th place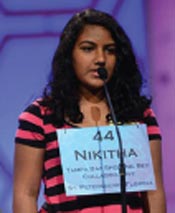 Tampa Bay Spelling Bee Collaborative, St. Petersburg, Florida
Age 13, 8th grade
School: Brandon Academy
Hometown: Valrico, Florida
Nikitha serves as student council treasurer at her school and has been admitted to the International Baccalaureate program for 2013-2014. She enjoys acting, singing, dan-cing, photography and play-ing piano. She is also involved in cheerleading and National Junior Honor Society. Nikitha loves The Hunger Games book trilogy and movie, and Taylor Swift tops her list of favorite music artists. Her favorite school subject is science and she hopes to one day pursue a career as a forensic scientist. Nikitha is "almost multilingual" – she can understand Tamil and is learning to speak Spanish. This is her second trip to the Scripps National Spelling Bee.