67th India Republic Day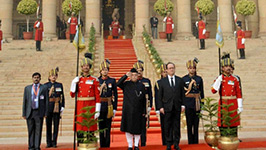 This year, India celebrated its 67th Republic Day with a much pomp-filled spectacle, including daredevil stunts and flamboyantly coordinated acts. It was a gallant affair showcasing military prowess and glimpses of the nation's rich heritage. The occasion was graced by French President Francois Hollande as the chief guest this year invited by Prime Minister Narendra Modi to showcase solidarity against recent terrorist attacks. Thousands gathered near Rajpath, Delhi, to witness the grandeur braving thick smog and shivering winter chills.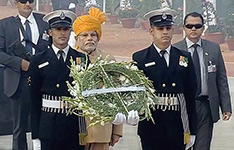 This year the celebrations were commenced at Amar Jawan Jyoti Memorial at IndiaGatewhere PM Narendra Modi honored countless Indian soldiers who have laid down their lives in battles since World War I. Vice-President Hamid Ansari, Congress President Sonia Gandhi, Cabinet Ministers and a host of dignitaries were present at the auspicious event.
Additional vigil had been deployed across the national capital on the eve of the 67th Republic Day, in view of intelligence reporting that Delhi might be the target for some terror groups.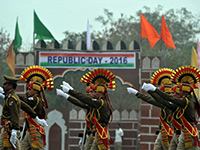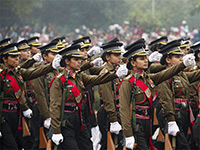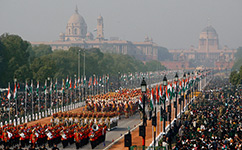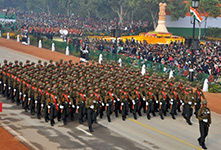 Several firsts to boast about on this 67th Republic Day: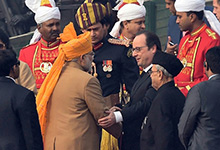 Since the inception of Republic Day parades in India, this was the first time a 76-member French Army contingent led by a French military band comprising of 48 musicians, marched in Rajpath. They resented a ceremonial salute to the President of India, which was in itself a first for the parade in India.
After 26 years, an Army dog squad brought in from the Remount Veterinary Corps (RVC) participated in the parade this year, along with their handlers.
For the first time, Army veterans showcased their role in nation building as part of the parade procession.

There was also an Indian Air Force float this year, with the theme "Humanitarian Assistance and Disaster Relief Operations" by IAF, showcasing models of C—17 Globemaster, MI—17V5 aircraft and C—130 Hercules emphasizing its use and relief and rescue operations in Uttarakhand, Yemen, Jammu and Kashmir and Nepal.
India also witnessed a 120 member all-women contingent of CRPF, from three women battalions of the CRPF and Rapid Action Force, who flaunted their extraordinary motorcycle riding skills on the Rajpath this time.
For the first time since 1950, the 2016 parade was shortened from more than two hours to just 90 minutes.