74th Republic Day: India Ready to Become Global Powerhouse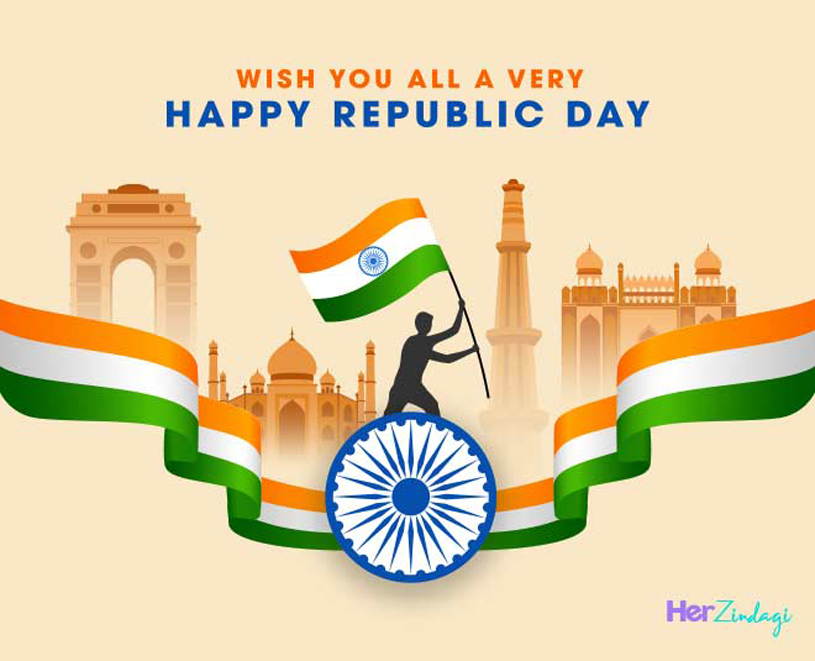 On January 26, 2023, India will commemorate its 74th National Republic Day, which marks the date in 1950 when the Constitution of India took effect and all links to the evil British empire were severed. It is a national holiday every year to honor the occasion. The constitution was adopted two months before, on November 26, 1949, with Dr. B. R. Ambedkar serving as the committee's chairman.
India has made significant progress in various areas over the past 75-plus years. Some notable achievements include: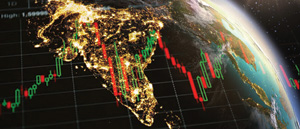 Economic growth: India has experienced rapid economic growth in recent decades, with GDP (gross domestic product) per capita increasing more than fivefold since 1950. India is now the world's fifth-largest economy by nominal GDP and the third-largest by purchasing power parity.
Industrialization: India has become a major industrial powerhouse, with a diverse range of industries including textiles, pharmaceuticals, engineering, and information technology.
Education: There has been a significant expansion of education in India, with enrollment rates at all levels increasing dramatically. The country now has one of the largest higher education systems in the world.
Health: India has made significant progress in improving health outcomes for its citizens, with infant mortality and maternal mortality rates both declining significantly.
Infrastructure: India has made significant investments in infrastructure, with the construction of roads, airports, ports, and other transportation facilities improving connectivity and accessibility across the country.
Science and technology: India has a thriving science and technology sector, with a number of major research institutions and a growing number of patent applications.
India Poised to Become a Global Powerhouse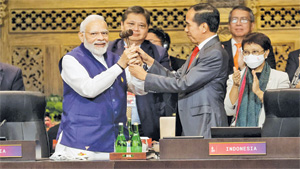 The world is watching India with anticipation as the country stands at the brink of a great transformation. As the world's largest democracy, India assumed the G20 Presidency in 2022 and the government of Prime Minister Narendra Modi is committed to making India a global economic powerhouse by its centenary in 2047. 
India is one of the fastest-growing economies in the world, and its membership in the G20 reflects its potential for even greater economic growth. The G20 is a forum of 19 countries and the European Union, representing 85 percent of global GDP and two-thirds of the world's population. India was inducted into the exclusive club in 2008 and is now a key player in the global economic dialogue.
Under Prime Minister Narendra Modi's leadership, India has taken advantage of the opportunity to play a significant role on the world stage. India has hosted two G20 summits, in 2010 and 2012, and its role as part of the G20 has enabled it to be an influential voice in matters such as sustainable development and climate change. It has also helped India to forge stronger diplomatic ties with other nations and allowed it to attract foreign investment and technology transfer. India's membership in the G20 has put it in a position to be an economic powerhouse in the coming years.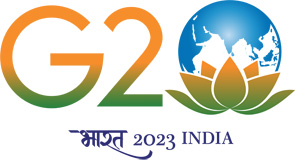 Since coming to power in 2014, Prime Minister Narendra Modi has focused on transforming India. Through initiatives such as the Make in India campaign and the Digital India program, Modi has sought to create an environment of economic growth and development. This focus has paid off, as India's GDP has grown by more than 7% in each of the past five years.
Moreover, India is playing an important role in global efforts to combat climate change. The country has pledged to reduce its carbon emissions by 33-35% from 2005 levels by 2030, and it is currently working to implement clean energy technologies such as solar power. These efforts are essential for ensuring that future generations can enjoy a healthy environment.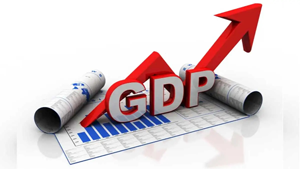 In short, India's increasing prominence in the global economy is clear. With the right policies and initiatives, it could soon become one of the most influential players in the global economy. By continuing to make progress on reforms, India can ensure a prosperous future for its citizens and contribute to a healthier global economy.
India has also seen a significant rise in foreign direct investment (FDI), as multinational companies are investing more in India's growing markets.
The Indian government has also taken steps to further boost the economy, such as introducing the Goods and Services Tax (GST) in 2017 and encouraging FDI through policies like the Make in India campaign. These policies have made it easier for businesses to operate in India, and have helped to create jobs and generate economic activity.
IMF and World Bank projection on India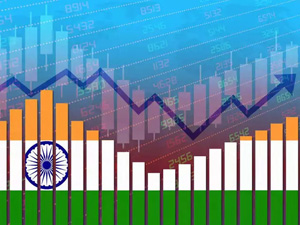 Prime Minister Narendra Modi has set an ambitious target to make India a $5 trillion economy by 2024. This goal was reiterated during the G20 summit, where PM Modi outlined a vision for India as an engine of global economic growth.
The real GDP is projected to grow at 6.8 per cent and 6.1 per cent in fiscal year 2022/23 and fiscal year 2023/24, respectively, according to Choueiri Nada, the IMF's India Mission Chief. In her virtual interaction with reporters, she reiterated that India continues to be the bright spot in an otherwise gloomy global economic scenario.
"We are seeing the economy continue to grow pretty robustly this fiscal year," Nada said as the international financial body released the report of its annual consultations with India.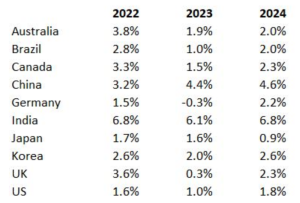 Below we have the IMF's GDP growth forecasts for some of the world's major markets. These projections are from October 2022:
IMF GDP growth projections, October 2022 – Data from: International Monetary Fund
The IMF also projects that India will be the second-largest economy by 2030. As a result of Prime Minister Narendra Modi's economic policies and growth initiatives, the Indian economy is expected to reach a nominal GDP of $5 trillion by 2024-25.
The World Bank also noted that India's reforms and strong macroeconomic management have helped create a conducive environment for economic growth. The report further stated that India's growth could be driven by strong private consumption, investment and exports, as well as government policies that promote investment and job creation.
Conclusion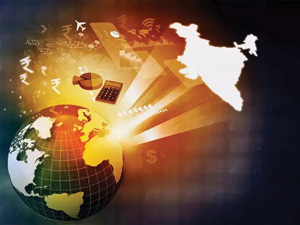 The economic growth of India over the last few years has been nothing short of remarkable. Apart from the direct benefits of increased employment opportunities, better living standards, and improved infrastructure, India's economic growth is also playing a pivotal role in the global economy. Indian exports are providing a much-needed boost to global trade and commerce, while Indian companies are becoming key players in the global marketplace. Additionally, India's investment in research and development has helped it become a major technological innovator, helping shape the future of the world.
Finally, India's rise is also having positive geopolitical implications. India is already playing a leading role in tackling global issues like climate change, terrorism, and poverty. It is also helping to strengthen regional ties by promoting regional cooperation and dialogue, while becoming an important voice in international forums such as the United Nations.
All in all, India's economic growth has been a tremendous boon for the country, as well as for the world as a whole.