A loss of life, a community's responsibility
As representatives of South Asian community-based organizations working to end violence against women, we are saddened by the recent murder of Reshma James, a 24-year old South Asian woman, just days before Thanksgiving. The tragic shooting death of Reshma James at the St. Thomas Syrian Orthodox Knanaya Church in Clifton by her estranged husband has stunned the entire South Asian community. In addition to Ms. James, two other individuals were injured, one of whom also died.
This act of violence – the last in a history of abuse perpetrated by Ms. James' estranged husband – has affected individuals and the justice systems of three states: California (where the abuse occurred); New Jersey (where the murder occurred); and Georgia (where the murderer was apprehended).
As community members deal with the trauma and grief of this incident, it is important to broaden our lens to understand the epidemic of domestic violence that affects families around the country from all backgrounds.
The murder of Reshma James is one incident among many that affect South Asians and other women in the United States. In fact, according to the National Network to End Domestic Violence (NNEDV), intimate partner violence claims the lives of three women each day in the U.S., and guns are the weapon of choice.
Through our direct service and advocacy work with South Asian survivors of violence, we know all too well that domestic violence can affect all families regardless of religion, race, socio-economic status, sexual orientation, age, or immigration status. Maitri, Manavi, Narika and Raksha are organizations that address domestic violence in the San Francisco Bay Area, New Jersey and Atlanta. Collectively our agencies receive over 4,000 calls annually from women seeking legal and health assistance, social services, basic information about their rights, and referrals.
Yet, the messages that we often hear from within the South Asian community are the same: that domestic violence does not happen in our community; that it does not happen within educated families; and that it is not an important issue for an entire community to address. From non-South Asians, we often hear that domestic violence must somehow be unique to South Asian communities, given our customs, beliefs, and familial relationships, or that it does not occur based on false stereotypes they have about South Asians.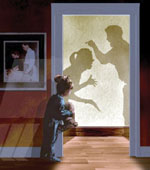 Women are battered in every culture, and the common factor is the social sanction of violence against women, across cultures. Our collective work as a society then is to build safe communities where everyone can live free of fear. We must bear the collective responsibility of keeping everyone safe. And that work cannot be done in isolation, by a few community based organizations such as ours. It has to be done by all of us, working together.
We ask you to support the work of ending violence against women and children in our communities. We ask that you listen to and empower survivors in your community. We ask that you look at legislation that compromises survivor safety and speak out against it and to advocate for laws and policies that protect survivors and provide them with linguistic and cultural access to the justice system, law enforcement, and shelters.
The entire community must be prepared to speak out against violence and address it in our homes, places of worship, cultural centers, and social service organizations. We ask you to reach out to someone who needs your support. Only as a community can we prevent the murders of women like Reshma James.
Maitri, Manavi, Narika, Raksha – community-based organizations working to end violence against South Asian women – are all members of the National Coalition of South Asian Organizations.
Aparna Bhattacharyya, Raksha (Atlanta) 1.866.725.7423 www.raksha.orgAtashi
Chakravarty, Narika (Bay Area) 1.800.215.7308 www.narika.org
Maneesha Kelkar, Manavi (New Jersey) 732. 435.1414 www.manavi.org
Sarah Khan, Maitri (Bay Area) 1-888-8MAITRI www.maitri.org