Akshaya Patra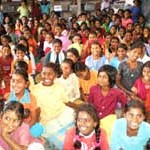 For Ashok and Uday, education was a luxury that could not be afforded. Ashok missed five years of schooling after dropping out to take care of his young niece. Uday was in second grade when he lost his mother and had to drop school to become a caregiver for his siblings at an age when he himself still needed parental care and affection. The teachers of the school in Toranagallusay, "The trend is not surprising in spite of the fact that parents understand the need for education." Due to poor economic conditions in the family, the parents are forced to send the child to work or to take care of younger siblings at home. This was before the Akshaya Patra Foundation began serving meals in the region's struggling schools, where even food was a considered a luxury.
The Akshaya Patra Foundation built a kitchen in nearby Bellary to establish a mid-day meal program that would simultaneously address child hunger malnutrition and promote education for thousands of local children like Ashok and Uday. The state-of-the art kitchen utilizes custom technology to prepare and deliver hot, fresh, nutritious meals to more than 130,000 children in schools every day. The kitchen also achieved International Food Safety Management ISO 22000:2005 certification and is certified hygienic under the strictest international standards.
The meals have acted as incentive for families to send their children to school, assured that they will receive one full meal for the day.
Today, both Ashok and Uday are back in school. Ashok is a good athlete who wins awards for the school, while Uday excels in his studies and is top of his class. The teachers say, "Apart from our efforts, the mid-day meal program has ensured that children like them come back to school. Parents have one less hungry stomach to feed. But if it had not been for Akshaya Patra, these children could never have realized their true potentials."
The Akshaya Patra Foundation is a public-private partnership that uses innovative technology, smart engineering, and good management to provide freshly prepared nutritious school meals to nearly 1.3 million disadvantaged school children across India every day. By partnering with the state and federal government, Akshaya Patra has ensured the sustainability of the school meal program. The government provides cash and grain subsidies that reduce the cost per meal by as much as 60%. As a result it costs Akshaya Patra just $15 to feed one child for an entire year. This public-private partnership allows Akshaya Patra's school meal program to reach twice as many children. Children, like Ashok and Uday, who might otherwise be forced to leave school to help support their families.
The Toranagallu Village school's enrollment data shows that 900 children are studying this academic year, with 443 girls and 457 boys attending the school daily. A few will drop out by the time they reach grade ten, but there will be many who continue to study. Most will opt to continue their studies in ITI and Diploma courses. The teachers of this school praise the students who have passed out of the school and become role models for their juniors. For many of them, it was the Akshaya Patra meals that made it possible for them to attend school making all the difference.
Akshaya Patra continues to make a difference in the lives of children whose future potential may otherwise be diminished by hunger and poverty. Akshaya Patra's is striving to reach 5 million deserving children by 2020 and needs the dedicated support of compassionate and conscientious individuals to make it happen. To find out how you can support their efforts,visit www.foodforeducation.org.