Amit Talati Award At South Florida Hindu Temple By Smeeta Patel Chairperson, Education Program South Florida Hindu Temple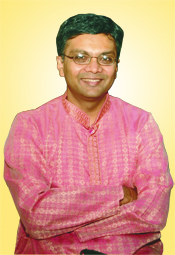 Recently, the South Florida Community and South Florida Hindu Temple (SFHT) lost a great friend and teacher. Amit Talati's untimely passing at the age of 43 left the entire community in shock and utter disbelief. Over the past five years, Amit Talati was a sevak (teacher) in South Florida Hindu Temple's Education program touching the lives of so many students and connecting them with the values of Sanatana Dharma. His mild mannerism, unassuming nature, attention to detail, love and dedication to inspiring the young adults of our Hindu community is a legacy he leaves behind and lessons from which we can all learn.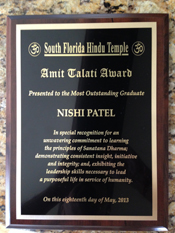 There are no words to express the emptiness that our program will face due to the loss of Amit; however, we do want to remember his contribution to the program and ensure his legacy carries on. We have created a very special award for that student that embodies all the qualities for which Amit stood. One student who best represents the qualities and values of Sanatana Dharma will receive this Amit Talati Award along with $500 each year. A fund has been created for this award with a seed donation of $5,000.
This year's recipient of this special award is Nishi Patel. A student of the SFHT's Education program since a young age, Nishi is a quiet, humble and well-spoken student who was touched by Amit uncle's class. After graduating from the SFHT's Education program two years ago, she continued serving as a teen sevak with Amit in his junior Yuvak's class. As a senior, we are certain Nishi will uphold the values of Santana Dharma proudly, and we entrust her with the task of carrying the Principles of Universal Values on to the future generation.
Nishi Patel on Amit Talati
When I was first Amit uncle's student four years ago, I loved his class. Just the way he described life and how he made everything so relatable made balavihar so much more significant for me. After that class I loved coming to balavihar because I got to see him and talk to him. He made me student of the year for his class at the end of the year, and I knew that I wanted to be his co-sevak for the rest of my time at South Florida Hindu Temple. Amit uncle was one of the most amazing people I have ever met. He was funny, smart and extremely spiritual. A few days ago somebody put a poster in our classroom from the Bhagvad Gita that said just as we discard our clothes, as we grow older the soul outgrows the body. Once someone in our class asked what happens after we die (we were talking about reincarnation, one of his favorite topics), and Amit uncle laughed and said he wouldn't know. I know that we are all sad about him leaving, but there is no doubt in my mind that he is further in his cycle and has perhaps even reached enlightenment. If Amit uncle was here with us today, I can just imagine him smiling his infectious smile and shaking his head and saying that we should not cry for the body since his soul is still there. Everything that Amit uncle has taught me in the jr yuvak class will never be forgotten. In a way, he still lives on through all the knowledge and wisdom he has spread.
Nishi Patel
Sevak Balvihar
South Florida Hindu Temple