Amitabh Bachchan Praises Anvita Dutt Guptan Film Qala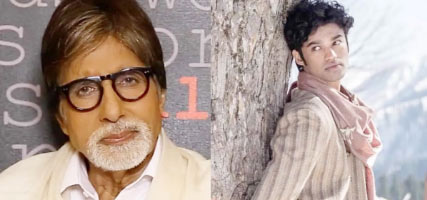 The living legend superstar Amitabh Bachchan highly praised the upcoming Netflix original film Qala directed by Anvita Dutt Guptan. The film also marks the debut of Babil Khan, the late actor Irrfan's son. Big B was extremely impressed by the glimpse of the making of Qala and expressed his pleasure and best wishes to the director.
On his Twitter handle, he praised Anvita Dutt Guptan and said the film looked quite different and he felt good to see the making of the film. Along with his words of applause, he also shared a clip of the making of the film. Big B had earlier worked with Babil's father Irrfan in the film 'Piku' directed by Shoojit Sircar.
Qala is produced by Anushka Sharma and her brother Karnesh's production company Clean Slate Films and the cast includes Babil Khan, Tripti Dimri and Swastika Mukherjee in lead roles. Babil Khan is also very excited about his debut film and shared the clip of the making of the film on his Instagram account. Tripti Dimri was the lead actor in Netflix's film 'Bulbul', which was also produced by Anushka's production house and directed by Anvita. After the success of 'Bulbul', they are happy to announce their second production with Netflix.
Qala is a story based on a mother-daughter relationship, where a daughter struggles to get her mother's love. Babil is a bit doubtful about the tag of 'getting launched' put on him. In his opinion, the viewers should launch off their seats while watching Qala, the film, instead of any specific actor.

Click Here for More Bollywood News
Amitabh Bachchan
Irrfan
Babil Khan
Qala
film
Netflix
Qala Director
Anvita Dutt Guptan
Anushka Sharma
Clean Slate Films