An Interview with Mike Patel
Mr. Patel currently serves as chairman of three community banks which he helped establish in large part to better serve emerging communities of Indian and Oriental small business owners in the United States: Haven Trust Bank, which serves entrepreneurs nationwide from Atlanta; Haven Trust Bank – Florida, which operates in northern Florida; and High Trust Bank, which operates in northern and middle Georgia.
As part of our continuing effort to highlight successful individuals from our community, Desh-Videsh spoke with Mukesh "Mike" Patel, president of Diplomat Companies, an Atlanta based firm founded in 1981 in partnership with his brother, R.C. Patel. The firm operates a number of hotels in Southeastern U.S., and also owns businesses related to travel, commercial insurance, real estate, and hotel software. Mr. Patel and his brother are also founding members of the Asian American Hotel Owners Association (AAHOA), which began in 1989. Recently, Mr. Patel and his brother purchased the Budgetel brand and became the first Asian franchisors in the hotel industry.
Mr. Patel served as AAHOA chairman, and during that time, he garnered historic success on such issues as membership growth, expanded opportunities for women and independent hoteliers, increased initiatives in professional education and government relations, and taking the association's message into Canada with first-ever conferences in Toronto and Vancouver. In fair franchising reform, Mr. Patel helped author AAHOA's 12 points of fair franchising. In addition, Mr. Patel's work on behalf of AAHOA was recognized at the association's 2000 Annual Conference in Las Vegas when he was presented with the prestigious "Award of Excellence."
Mr. Patel currently serves as chairman of three community banks which he helped establish in large part to better serve emerging communities of Indian and Oriental small business owners in the United States: Haven Trust Bank, which serves entrepreneurs nationwide from Atlanta; Haven Trust Bank – Florida, which operates in northern Florida; and High Trust Bank, which operates in northern and middle Georgia.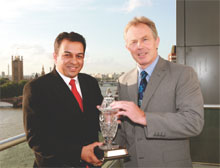 Recently, Mr. Patel was named recipient of the 2007 Award for International Cooperation between the United States and the United Kingdom. The award was presented by British Prime Minister Tony Blair during a dinner celebration in London on Wednesday, June 20. Mr. Patel was commended for his commitment to improve relations among ethnic communities around the world. For example, during former President Bill Clinton's administration, Mr. Patel served on a White House Advisory Commission for Asian Americans and Pacific Islanders which initiated historic changes for these groups in banking, social services, immigration, and relations with India. Mr. Patel has also worked closely with the former President to fundraise for earthquake relief in Gujarat as well as on projects associated with the Clinton Foundation's Global Initiatives on AIDS, hunger, and climate change.
Born in Uganda, Mike moved to England with his family when he was eight years old. Mike and his brother worked in
their father's business and helped expand from a single corner shop to a chain of six. In 1981, Mike moved to the United States to play professional soccer for the Atlanta Chiefs. When the league folded, Mike and R.C. purchased their first hotel in Alabama. Mike is a graduate of the London Business School. He and his wife, Hasmita, live in Atlanta and have two grown children, son Rishi and daughter Ayesha. The following excerpts from our interview offer some insight into Mr.Patel's background, successes, and view of life.
Q: Tell us a little bit about your career and how you came to be where you are today.
A: The hospitality industry has been of interest to me for two main reasons: first, because my brother and I had experience as teenagers working at our parents' convenience stores in England, and second, because of our natural people skills. In 1981, we bought a bankrupt hotel in Montgomery, Alabama and turned it around almost immediately by first completely renovating it, then making an inspired deal with railroad companies to offer their workers rooms that were guaranteed to be quiet and available. We were so successful that other companies asked us to open hotels at other key locations. So, we started buying existing hotels and upgrading them. It was a strategy that minimized capital investment while maximizing profitability.
Our entrepreneurial spirit has shaped our lives, and with qualities such as perseverance in the face of diversity, independent thinking, ability to overcome obstacles, and willingness to embrace prudent risks in order to achieve important goals, we have been able to succeed. For example, we had to overcome cultural barriers as immigrants not once but twice: first while assimilating into British society as teenagers, then again as young entrepreneurs coming to America. After starting their business in the United States, we had to juggle the economic uncertainties of a start-up enterprise in the cyclical hotel industry, while also dealing with the discrimination practiced at the time by banks and insurance companies against hoteliers of Asian background. My brother and I have not only been able to persevere but to succeed in the face of adversity – repeatedly.
Q: What has been the toughest challenge you have faced during your career in the United States?
A: I don't like to think in terms of "challenges" – I prefer to see "opportunities." Albert Einstein put it well when he said that within every problem lies opportunity. In other words, it's a matter of perspective – the old adage about whether the glass is half empty or half full. I look forward, not back, and I always urge those around me to do the same.
Q: What drives you? What really pushes you to succeed and reach greater heights?
A: It's hard to single out one thing that I'm proudest of, however, I do take great pride in changing the status quo. I like to see that the right things are done for the right reasons – and sometimes that requires taking a stand against the way things are currently. Of course, at times that has made me appear to be somewhat of a radical, such as when I developed the "12 points of fair
franchising." Those points were evolutionary for some, but revolutionary for others. Now they've become accepted principles in many franchise-based industries and have even been recognized by the United States Congress in some of its legislation. Working for change requires a thick skin because as the messenger, you will sometimes be shot at. You're only vindicated when the message survives – and it can take awhile for that to happen. That's why having strong friends and close family is so very important to me – I'm blessed to be surrounded by people who are supportive, who see the big picture,
and who keep me on course – especially my wife Hasmita and our two children – son Rishi, age 17, and daughter Ayesha, age 20.
Q: What do you think is the secret behind your success?
A: Quite simply, by using my past to guide my present and my future. I think of it as keeping one eye on the ground and the other eye on the horizon. For example, when I was growing up in London with my three brothers and two sisters, I learned the value of having friends from many different nationalities and ethnic backgrounds, not just Indians. I was exposed to various cultures and learned the best of many worlds. Today, as my brother RC and I run Diplomat Companies, the friends and business contacts that we have are still a very diverse group – something that constantly challenges me to improve myself, to give back to the community, to think about more than just monetary and materialistic achievements, and to generally be more mature. I still remember my father working as a conductor in Leicester before he bought a newspaper shop – the whole family pitched in and to this day we have never forgotten where we came from. We've also never forgotten the people in Nuneaton who gave us a place to stay when we first arrived in the UK. Helping fellow immigrants is a very special Indian quality, and that's why my door is always open to Indians who need a hand.
Q: Has your personal success changed your attitude, lifestyle or work style?
A: I fully realize that not everyone is born blessed with good of money but also of our time. As I get older, I always ask myself — what am I doing to help my fellow man? Everyone thinks about the purpose of being on this earth. Materialistic things do not take you to a higher spiritual level. Helping mankind gives me peace and satisfaction — that's why I'm involved in the community. I think true gratification comes when you make a difference in someone else's life. When my family first migrated to the UK, people helped us. I believe it is my turn to do the same now.
Q: How would you compare life in the US today to when you first arrived? How does it compare In terms of opportunities, culture, or any other aspects?
A: The opportunities for Asian Americans are constantly growing and improving, although not as much as I would like to see. We are new immigrants to the country and we are certainly making an impact which is much bigger than any other ethnic community. There are still pockets of discrimination; however, most of us make better decisions when we seek out different points of view. Similarly, we can build a better society when different skills and experience are part of the mix. As the saying goes, the whole is greater than the sum of its parts – we are all stronger and better off when we pull together rather than when we pull separately. Indians will continue to be a big part of America's growth and success – and that means lots of opportunities for personal growth and success.
Q: New immigrants to the US often have great dreams of achieving their goals. What guidance would you give them?
A: Climbing the ladder of success means keeping your nose to the grindstone … your shoulder to the wheel … your eye on the ball … and your ear to the ground … all at the same time. I'm not just trying to be cute. You have to be tuned in to the events around you so you can discover your niche or special talent. Then you have to act quickly, decisively, and with integrity. In the process, you will grow, improve, and prosper.
Q: An American colleague once asked me an interesting question – "Why are Indians in the US at the forefront of a variety of fields?" What to you think?
A: Asian Americans are the second largest immigrant group in the United States. And as a culture, we have exceptional work habits. We are very smart people. Our religious beliefs are very strong. Now we are at a stage when we are going to take the big leap and diversify into many industries beyond the ones Indians are currently noted for, such as hotels, convenience stores, and so on. My ownership of a bank is a perfect example. Our second generation is at a point where they know America, yet they also know India. They look American and dress American. They don't have the language barriers. They have the best of both worlds. Plus they have the great Indian values and heritage. Hopefully we will soon have an Indian-owned investment house like Goldman Sachs!
Q: What qualities or values in life do you find most important?
A: In all our dealings and decision- making, we keep in mind that life is about people. It's the "golden rule" – treat others as you want to be treated. Whether we're dealing with our employees, our guests, or our financial partners, we strive to be "inclusive" rather than "exclusive." We want to empower people. That's because when you pay attention to people, you get a big payback – including on the bottom line. We also try to give back – both to America, the country that is our home, and to India, the country that is our heritage.health and good living conditions. Those of us who are more fortunate should help others with gifts
Q: What financial advice would you like to give to the readers?
A: This is advice in general, not specifically financial advice. As Asian Americans, we possess a unique combination of dedicated work ethic, strong family commitment, and rich cultural heritage that's unmatched by most nationalities or ethnic groups. You can't know where you are going if you don't know where you came from – and Indians certainly have a rich history of working hard, taking care of relatives, and respecting the past. It's this unique combination that can help you achieve the success you desire.
Q: Who do you consider to be a mentor and why?
A: The biggest inspirations for me were my family and the streets of London, in that order. Our family was very close
and supportive of each other — our parents encouraged all of us children to grow up sharp and smart. I don't believe any success in life comes without a person working for it, but hard work doesn't seem like a struggle if you have the support of your family – and I most definitely had that kind of support growing up and still have that kind of support now.
Q: Has religion played a role in your success or your life? If so, how?
A: One of the principals that guide me is … To honor the past and to imagine the future. It's said memories are moments that refuse to be ordinary. For me, that describes the role of religion in my life – memories of special moments. Religion is part of my every day life, not just during holidays but throughout the year. Religion brings me closer to my family, my culture, and my past so together we can celebrate who we are and what we have.
Q: How has education, if any, played a role in your success?
A: There is formal education provided by school and informal education provided by life. Both are important and both have been important in my life. For example, I had a very fortunate childhood. I grew up in Uganda as the youngest of the four boys. I remember that our home there was surrounded by jungle — there were no cats or dogs — so I was the only kid who had a monkey as a pet. Then we moved to England when I was eight and I had to assimilate into the British society, which was a bit of a challenge. Sometimes Indians tend to keep to themselves. I was lucky to have Irish, Scottish and Italian friends, from whom I learned some of the social skills that have benefited me throughout my life. Growing up in London with my three brothers and two sisters, I was exposed to a wide variety different nationalities and ethnic backgrounds. I learned the best of many worlds and many cultures, both in school and while playing soccer, which was my favorite sport. I graduated from the London School of Business. We're a culture that believes in education. We encourage our children to get as much school education as possible. We often travel great distances from our home country so we can improve life for ourselves and our families, especially our children. My parents are a perfect example – Chandubahi and Chandrika – they arrived in England with six children and 500 shillings after being forced to leave Uganda.
Q: Do you feel you have missed out on anything in life?
A: Not winning a major trophy in professional soccer
Q: Is there anything you feel you would still like to accomplish?
A: Owning a professional soccer team such as Arsenal
Q: Our readers always like to learn personal tidbits about you. Please list the following:
A: Favorite Book: Anything to do with business Favorite Indian Movie: Munnabhai Favorite Non-Indian Movie: Fever Pitch
Q: It may be difficult to condense it in 200 to 250 words, but please try to summarize your life journey.
A: The journey of life is much like a soccer game … no pain, no gain. It's a matter of proper preparation … you can't take the shortcuts, you must put in the time necessary to perfect your skills. As significantly, soccer taught me that even when you're down 1-0, you never give up … and it taught me to anticipate. You have to know where the ball's going before it gets there – once the ball reaches your foot, it's too late to decide where to pass it. The advantage is lost. A good player plays where the ball is, but a great player plays where the ball is going to be. The same is true in life. Perhaps most importantly, before you leave this earth it's a matter of how many lives you've touched and helped. I believe firmly and fervently that we're on earth to improve each other's lives… I try to never forget this and that's why it gratifies me so much when I can help others.
An Interview with Mike Patel