Anupam Kher highly admired R. Madhavan's film Rocketry: The Nambi Effect
Rocketry: The Nambi Effect, a film written, produced, and directed by R. Madhavan, has been highly praised by ace actor Anupam Kher. In a video clip posted on social media, Kher said that it was one of the best films that he has watched recently. He praised the sincerity of R. Madhavan in making the film and also applauded the nationalism of the rocket scientist Nambi Narayanan. He said that he broke into tears while watching the movie and urged everyone to see it.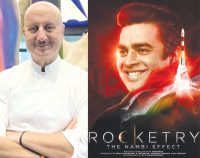 The film is based on the life of Nambi Narayanan, a rocket scientist at the Indian Space Research Organization (ISRO) who was arrested on false charges of espionage. After a long legal battle, he would be proven innocent, acquitted of charges, and paid compensation. R. Madhavan also played the role of a scientist. In addition to Madhavan's sincerity, Kher also appreciated his acting prowess.
Reviewing the film, Kher said that he felt ashamed of what Nambi Narayanan went through and tendered his sincere apologies. He was deeply moved and inspired by this film. He expressed his pleasure and pride for Madhavan on social media. The grateful Madhavan thanked the senior actor for his sincere support. He also said that a person with a big heart can appreciate this. He recalled that he started his career with Kher's company and expressed his gratitude for the good words from an expert like Kher.