Anupam Kher meets his 'Hero' Hima Das in Guwahati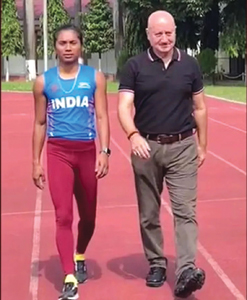 Very few people have the honest and open heart to praise a youngster and call her an idol. Ace actor Anupam Kher, however, is an exception. The talented actor exudes a loving nature full of respect for any talented person. Recently, on his visit to Guwahati, the capital of Assam, he met the sensational young sprinter Hima Das. Kher was so impressed that he referred to Das as his "hero," recognizing both her athleticism and her nature.
Kher met Das at the race track. She was practicing when the veteran actor arrived. After that, the two of them had a long informal chat. Age was no barrier for them and the young Das discussed and shared many things with Kerr frankly. He was highly impressed by the nature and talent of Hima and called her the "track princess." Kerr was particularly moved by her love for the nation and found it extremely inspiring and priceless.
Kerr took to his social media handle and to share the picture of himself in a casual T-shirt with Das in her tracksuit. He described this meeting as highly motivating for him, leading him to call the super-talented sprinter his "hero." Das, too, took to her social media handles and described this meeting as a great pleasure. She was in total awe of the energy of the senior actor and said that she was motivated and inspired by meeting him.
Hima Das is a famous athlete from a village near the town of Dhing in Assam. Her speed has given her the nickname of "Dhing Express."
Anupam Kher
Hima Das
Guwahati
athlete
hero