Ascending
Ascending
By Faren Rajkumar
hold me, but then
let me fall
to strike the ground like Indian rain
something I have seen only in my sleep
where I dance amidst a dark monsoon
until I find myself drowned, unable to
breathe
face down against the wet earth
praying for release from
this body unaware
of the tempest evolving in the mind's eye
and even you fail to see
brown human –
you are not a bridge
to be crossed in a storm
you carry the love of
the mothers before you,
to rip apart your chest
break open the twilight sky
why do you dream yourself into exhaustion
and forget you are the colored moon
the ancient tides, the water
all your own
stir from the ground
use your body to
rise –
and they will know
About the Poet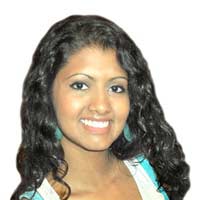 Faren Rajkumar is an MFA candidate at the University of South Florida and a poet from Fort Lauderdale, Florida. Faren's work is inspired by her Hindu roots, love of nature, traveling, and meditation practice. This poem is an excerpt from her upcoming book Paper Flowers.