Juhi Kunde
 About the Author:
Juhi Kunde comes from a long line of writers and poets including her grandfather Avinash Mehta, a novelist, and her grand-uncle, Sitanshu Yashaschandra, a poet, playwright and academic who won the Padma Shri award in 2006. She is a professional science writer whose work has appeared in newspapers, radio shows and magazines.
A lifelong poetry lover and a published writer, Kunde lives in the San Francisco Bay Area with her husband and two kids. She dabbles in gardening, dreams of laundry-folding superpowers, and delights in giggling with her family before bedtime.
Expressions of Milk is available in softcover and e-book on Amazon.com. For more information or to contact the author, email expressionsofmilk@gmail.com.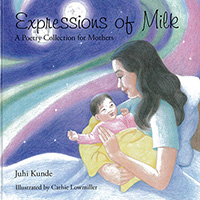 Author by Juhi Kunde Reprinted with permission from Expressions of Milk: A Poetry Collection for Mothers. Written by Juhi Kunde and illustrated by Cathie Lowmiller. Potential Our little seed is planted in the ground. Water and minerals, yes, sun and care, yes, but faith of a world beyond is truly what pushes it to be visible, tangible, living. Once birthed …