Satya Kalra
About the Author:
Satya Kalra is a founder of Path to Anandam-Blissful Living. Satya's mission in life is to live in Anandam and spread the same to others by leading, practicing and propagating spiritual live-style and helping others to become more self-dependent and self-reliant.
Prior to finding path to Anandam, Kalra worked in the biotech industry for over 35 year as a visionary, entrepreneur, founder, CEO, and chairperson. She is a wife, mother, and social worker and has been living in USA since1969. She has Biochemistry degrees from India and the United States as well as a business management education from the University of Berkeley in California.
She has been practicing meditation over 32 years and studying Srimad Bhagvad Geeta for 18 years. Engaged in promoting awareness, practice and applications of spirituality in daily life, family, business and community matters for over 15 years, Kalra has also been a guest speaker at various temples, spiritual conferences and business forums on various topics.
A few years ago, with the blessing of many saints and a Higher Self, a divine call came to her, so she quit her job as a CEO, became a full-time seeker to discover her True Self.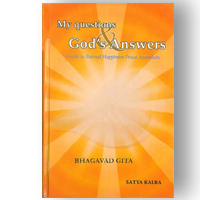 Author by Satya Kalra My Questions and God's Answers: Guide to Eternal Happiness Peace Anandam Bhagavad Gita By Satya Kalra The book is for anyone who is facing challenges in life due to health, finances, relationships, business or emotions. This robs our happiness and peace and finally reduces the quality of our day to day life. Are you one of those …
Satya kalra
University of Berkeley in California