Satya Patel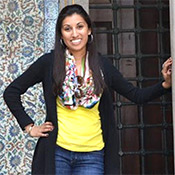 About the Author:
After being in the Marketing field for over a decade, Satya Patel started Indian Wedding Toolkit to connect her skills from Marketing Strategy to Wedding Planning. Organization and Project Management have always been an essential part of her job, and she loves it.
As she planned her wedding in 2014, she realized there are so many things about Indian wedding planning that nobody tells you. By staying on top of planning with strategies she had discovered along the way, she was able to plan the wedding of her dreams.
Today, Satya empowers brides and grooms with relevant time-saving planning tips, tricks, and resources to prepare for the incredible Indian wedding & fusion wedding planning journey. Visit Indian Wedding Toolkit to learn more.

Want to be Truly Happy on Your Wedding Day? Follow These 10 Tips. By Satya Patel, Indian Wedding Toolkit Focusing on these few things will make the big difference on your wedding day, and will help you truly enjoy it. Greet guests: Seems obvious but it's not. There's no excuse not to greet guests. They're at your wedding to celebrate …
How To Create the Perfect Indian Wedding Welcome Bag By Satya Patel, Indian Wedding Toolkit How do you create the perfect Indian wedding welcome bag? Anyone can whip up a welcome bag, but certain ingredients make the bags stand out from the crowd. Welcome bags (or boxes) are perfect for your out-of-town guests. Pick some of these items or pick …
Happy on Your Wedding Day
Perfect Indian Wedding Welcome Bag
Indian Wedding Welcome Bag