Biopic on Indian Politician Lalu Prasad Yadav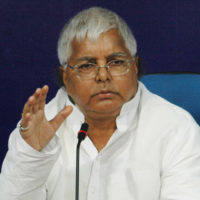 It seems to be raining biopics in Indian cinema this year, especially biopics on politics. From Current Indian Prime Minister Narendra Modi and Former Indian PM Manmohan Singh to Shiv Sena supremo late Balasaheb Thackeray's biopic a few biopics on political leaders have already been released. Now reports suggest that former Bihar chief minister Lalu Prasad Yadav is the latest political leader to get a film on his life.
The film on the Rashtriya Janata Dal president is likely to be titled Lalten, which is the symbol of his political party as well. The movie is said to feature different aspects of Lalu Prasad Yadav's life in an interesting manner. Lalu Prasad Yadav's life and political career has always been surrounded by controversies. Apart from being the leader of RJD and former CM of Bihar, Yadav has also held the position of Member of Parliament, and also held the charge of the Ministry of Railways under the former UPA Government. He has been convicted and jailed in two scams. And. His family members too have been charged in several other corruption cases, including wife Rabri Devi, sons Tejashwi Yadav and Tej Pratap Yadav and daughter Misa Bharti.
According to reports, Bhojpuri actor Yash Kumar will play the role of Yadav in the biopic. Actress Smriti Sinha will portray the role of Yadav's wife and former Bihar CM Rabri Devi. The film has been shot in different parts of Gujarat and Bihar. In an interview, Yash Kumar told media, "The film titled 'Lalten' (lantern) is likely to release in February next year and it will be based on his (Yadav) political life."
Lalu Prasad Yadav is currently completing his sentence in Fodder Scam charges in Birsa Munda Jail, Ranchi. The film is expected to hit the theaters in February next year.
Lalu Prasad Yadav
Former Bihar Chief Minister
Rashtriya Janata Dal leader
Lalten
Prime Minister Narendra Modi
Manmohan Singh
Shiv Sena supremo late Balasaheb Thackeray
Yash Kumar
Rabri Devi
Smriti Sinha