Bollywood News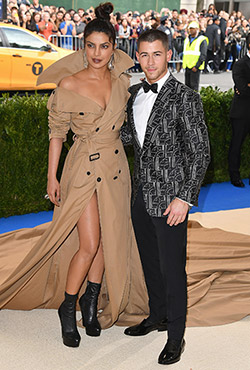 Priyanka Chopra and Nick Jonas Avoid Paparazzi

The rumored link between Priyanka Chopra and Nick Jonas is the latest talk of B-town. It seems the new love birds are totally into each other as has become evident from comments they made on each other's social media posts as well as the fact they were spotted together at social functions. There were reports of Priyanka coming back home with her new boyfriend. The duo surprised the public when they were spotted together at the Mumbai airport. Breaking the tradition of paparazzi, on her arrival Priyanka pulled up the blinds of her car window in order to ensure that no one could get the perfect picture of her beau. Although Priyanka tried hard to hide her beau, reporters still managed to capture Nick with Priyanka. Priyanka flashed a wide smile as she zoomed away.
It is reported that Priyanka will formally introduce her beau to her mother Madhu Chopra. Fans can also expect to see Nick at the house warming party at PeeCee's house. Reports also state that both Nick and Priyanka are serious about their relationship and want to take it to next level. Apparently the singer even asked her to move in with him.
Ranveer Singh shares Throwback Photos

Recently Ranveer Singh shared some photos on social media from his childhood memories and captioned the pics "Avante Garde since 1985." This picture invoked some epic responses from his celebrity friends, including Ayushmann Khurrana and Arjun Kapoor; however, the reaction from his special friend Deepika Padukone is priceless. Though previously Deepika was extremely private with Instagram account, nowadays she is always sure to react to Ranveer Singh's Instagram updates without fail. To this childhood snap of Ranveer Singh, Deepika Padukone commented "Noooooooooooooo" with a "See- No- Evil" emoticon and to which Ranveer replied "Unfortunately…yes!!!". Fans went crazy when seeing the throwback photo as became quite apparent from the fans comments. They were totally taken aback on seeing this picture. They might have never expected to see their favorite hero in that avatar. After seeing this avatar of Ranveer Singh, Anil Kapoor assured him of the fact that one day he will definitely become a Big Superstar without even giving it a second thought.
Grand Celebration at IIFA 2018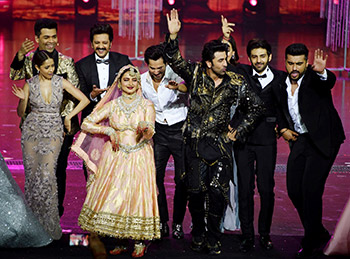 At IIFA 2018, each and every celebrity got an overwhelming response from their fans. Dia Mirza, Anupam Kher and Anil Kapoor spoke on the Globalisation of Indian Cinema. They also emphasized the fact of preserving and nurturing cinematic event. Ranbir Kapoor and Rekha made stunning performances for the audience. Fans of Ranbir Kapoor and Varun Dhawan geared up to cheer after meeting their star heroes. Celebrities tried hard to give their best performance as they got a wonderful opportunity to meet their fans after such a long time, so they wanted to make each and every day count. Varun Dhawan danced to his own movie title track "Tera  Hero Idhar Hai." Many superstars like Anil Kapoor, Anupam Kher and others emphasized the fact of preserving the Indian film industry for the future is necessary. Kriti Sanon gave a power packed performance. Both Kriti Sanon and Arjun Kapoor performed on the final day. Kartik Aryan and Ayushmann Khuranna were two charismatic hosts who stole the show.
Dabangg Tour Steals Heart of Chicago Audience
The blockbuster movie Dabangg tour already began in Atlanta with Katrina Kaif, Daisy Shah, Jacqueline Fernandez, Sonakshi Sinha, Manish Paul and Salman Khan to entertain the audience. Salman Khan along with his Dabangg team is ready to steal the hearts of their valuable audience in America and Canada with their scintillating performances. Legend Prabhudheva and popular Punjabi Singer Guru Randhawa joined the Dabanng team in Chicago. Prabhudheva as usual entertained the audience with his electrifying performance. Guru Randhawa, on the other hand, created a magic on the stage with his charming voice. Apart from these two superstars, Jacqueline Fernandez's dance to Oonchi Hai Building also entertained the audience and put the stage on fire. Each of Salman's fan enjoyed Salman's performance to the fullest and appreciated each and every moment of their favorite star's performance. Some of Salman's fans were filled with tears of joy in their eyes that they saw their superstar in reality.
Ashwiny Iyer Tiwari to Represent India at BRICS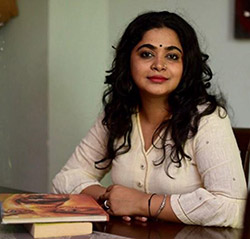 Ashwiny Iyer Tiwari's short film Ghar ki Murgi (Taken for Granted) earned its place in the Shanghai International Film Festival, will also be showcased at the BRICS Film Festival, and will soon be released in China. Ashwiny Iyer Tiwari is honored to represent India at BRICS Film Festival to be held in Durban in July. She shared the happy news on Twitter and tweeted "Human stories have natural and Universal appeal and travel across borders. It's an honour to be representing our Country at the #BRICS 2018 World Summit, spreading word of humanity and equality through films. #GharkiMurgi (#Taken for Granted) starring lovely #Sakshitanwar is special. Hope it win Hearts."
The work of Ashwiny Iyer Tiwari has definitely turned heads and made all Indians proud. It took India a step ahead in the film industry on an international level. She also won the best screenplay award in the 19th IIFA Award 2018 for the movie, Bareiily Ki Barfi. Well that's another feather on her cap, indeed, so for Ashwiny Iyer Tiwari fans you have more than one reason to rejoice.