Bollywood Today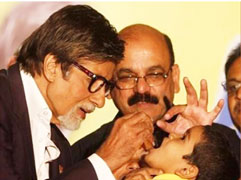 Big B Honored for Polio Work
Megastar Amitabh Bachchan, UNICEF's brand ambassador against polio, will be honored for his contribution to the cause. "And the organization that acknowledges social work for a cause, will honor yours truly for the work done as UNICEF ambassador for the fight against polio, which as you know has had some rather encouraging achievements," Amitabh wrote on his blog, bigb.bigadda.com.
In February, the World Health Organization (WHO) took India off the list of polio endemic countries. The 69-year-old was delighted to know that no case of polio was reported last year. "For an entire year there has been no case of polio reported in the country for the first time since the campaign began. That is fantastic for a country plagued with the disease for years," he said.
A study commissioned by the health ministry and UNICEF and conducted by the Social and Rural Research Institute found that 73.6 percent guardians with children under the age of five in lower socio-economic categories could recall the polio TV ad featuring the star. "A gentle pat on the back, if I may. There is more to come, and when it does I shall inform. It is for another cause I have worked on. A most rewarding experience," said Big B.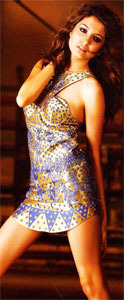 Anushka to Set Right Example
Actress Anushka Sharma, who is popular among the youth for her perfect figure, suggests young girls not follow any body-type blindly. She feels that they should try to be fit and follow their instructor. "Fitness has become such large part of our lives. There are gyms at every nook and corner. There are such wonderful trainers. You need to get the right assistant and follow what is right for you. Don't try to become like me or Deepika (Padukone) or Priyanka (Chopra)," she said.
"Eating less is stupid. If you are eating every two hours, you are increasing your metabolic rate so you will digest things faster. Eat healthy and eat every two hours," she added. As a celebrity she feels she should set the right example.
"Not really my responsibility, but as much as I can, I will try to be responsible that whatever I do sets the right example in front of young girls," the 23-year-old told reporters Thursday while unveiling the Inaugural cover of India Today Women Health Magazine.
Anushka warns youngsters against blindly following someone else's body type. "You should be very comfortable the way you are. If you are comfortable with what you are, let the world go to hell. They are not going to feed you or cut down on your food intake. If you are happy with the way you look it's completely okay.
"Yes, fitness is very important because when you grow older you will have problems, you will not be able to be that active. Blindly trying to become somebody's body type is just stupidity," she said.
She also says that she is naturally lean. "There are all kind of body types. Some are obsessed to lose weight, but some are naturally thin and it's not easy for them to put on weight. I am naturally lean," she said adding that she eats constantly. "I get hungry quite often. I have to eat constantly every two hours. In the night, I don't have to go to the kitchen as food is always next to me. Though it's not a healthy thing, but sometimes it is OK," Anushka said.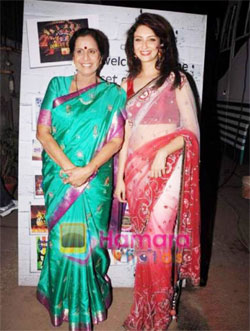 Usha Nadkarni to Play 'Sutradhar'
TV actress Usha Nadkarni, popular for playing a sweet-and-sour mother-in-law in Pavitra Rishta, will now play a 'sutradhar' (narrator) for a weekend special of Kairi – Rishta Khatta Meetha. Kairi, aired on Colors, is a story of the clash between a tyrant mother-in-law Imarti Devi (Hema Singh) and a loving, yet rebellious daughter-in-law Ambi (Preeti Chaudhary). Usha, a veteran in the industry, will be seen narrating a recap of the week on the weekend special — Kahani Ab Tak. Having played a 'saas' on the small screen, perhaps she fits the role of a 'sutradhar' for a show like Kairi very well.
Recently, Colors roped in actor Om Puri to play narrator to the weekend recap show for its crime thriller Chhal – Sheh Aur Maat.
Doing 'shayari' made me nervous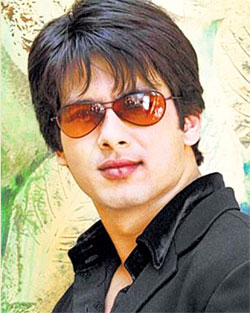 After making Aamir Khan do the 'shayari' in Fanaa, director Kunal Kohli asked Shahid Kapoor to do some poetry in "Teri Meri Kahaani" and the actor says he was very nervous about it. "It's (shayari) something I really enjoyed in Fanaa as well. I was nervous to be doing it because somebody like Mr. Aamir Khan had done it," the 30-year-old told reporters here Thursday while unveiling the first look of Teri Meri Kahani. "I told Kunal (Kohli) also that I hope I don't make a fool of myself as it was done really well in your earlier film. But he was very kind and said we'll find a way of doing it well," he added.
Teri Meri Kahaani stars Priyanka Chopra opposite
Shahid and is set during three eras – 1910, 1960 and 2012. The film, being promoted with the tagline 'Thrice Upon A Love Story,' will hit theatres June 22. Shahid plays Javed Quadri, one of the three characters in Teri Meri Kahaani. The character is set in pre-independence Lahore.
"I got a chance to say this (shayari) as Javed's character and I think Javed is really cool. Of all the three characters, Javed is the worst behaved.
I always say this to Kunal that the character of Javed is the worst person to be existing at a time, that is in 1910, when everyone was supposed to be very well behaved," he said. The role was both fun and difficult for the actor. "I loved playing this character because by using shayari he does anything he wants. So I found that character very exciting and also the most difficult because I think I am playing a Muslim character for the first time in my career," said Shahid. "Secondly, it was very heroic, massy kind of character. He is not afraid of anyone, does what he wants and teases any girl he wishes," he added.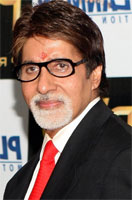 Big B wants Katy Perry's autograph for granddaughter
Millions would run after Amitabh Bachchan to get his autograph, but the megastar is trying to get American singer Katy Perry's signature for his granddaughter Navya Naveli. Amitabh and Perry were among the star performers at the opening ceremony of the fifth edition of the Indian Premier League (IPL) in Chennai Tuesday night.
"The granddaughter has a fancy for the singer Katy Perry. I hope I have the name correct. Yes just checked, it is right… Navya wants her autograph for she loves her. So efforts are on to make that happen," the 69-year-old posted on his blog bigb.bigadda.com.
It was Perry's maiden performance in the country, and she chose to go desi for her performance. She wore a blingy choli teamed with pink-colored transparent lowers, and accessorized her look with a maang tika and bindis on her forehead.
Big B, who recited a poem at the ceremony, says he didn't know about the 27-year-old pop icon earlier. "I would probably get killed for this, but I had not heard of her till last night. The age difference is playing havoc," he added. The actor, who is a fan of evergreen and classic music by British rock band 'The Beatles', feels "today's grandchildren would 'snuff' at that".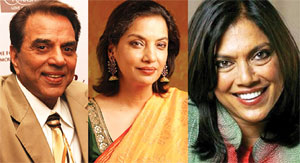 Mario, Dharmendra, Shabana conferred Padma awards
Leading media personalities, film stars, industrialists, retired civil servants and educationists including the late cartoonist Mario Miranda, Bollywood veterans Dharmendra and Shabana Azmi, and former Chief Vigilance Commissioner(CVC) Nagarajan Vittal were conferred the prestigious Padma awards.
The colorful ceremony was held at the Durbar Hall of Rastrapati Bhavan, where Miranda's son Rahul received the Padma Vibhushan from President Pratibha Patil amidst thunderous applause from guests, including Vice President Hamid Ansari, Prime Minister Manmohan Singh, UPA chairperson Sonia Gandhi and a host of other dignitaries.
But the loudest applause was reserved for Dharamendra and Shabana Azmi, both of whom received the Padma Bhushan, and for international archer Limba Ram Ahari and Olympic hockey gold medallist Zafar Iqbal. Among the Padma Bhushan awardees were Vittal, literary theorist Homi K. Bhabha, violinist M.S. Gopalakrishnan, Tata Steel Vice Chairman B. Muthuraman, former bureaucrat Mata Prasad, mathematician M.S. Raghunathan, international jurist P. Chandrasekhara Rao, neurologist Noshir Hormusji Wadia and former Singapore Foreign Minister George Yong-Boon Yeo, who is presently a governing body member of the Nalanda University.
Among those not present at the ceremony, but whose awards would be sent to them, are eminent painter K.G. Subramanyan (Padma Vibushan), Satya Narayan Goenka and Jose Pereira (Padma Bhushan), and leading homeopathic
consultant late Jugal Kishore.
Apart from Limba Ram and Zafar Iqbal, the Padma Shri was conferred on industrialist Swati Piramal, eminent diabetologist V. Mohan, and Ravi Chaturvedi, who popularlised cricket commentary in Hindi. Along with the lone Padma Vibhshan, 13 Padma Bhushan and 53 Padma Shri awards were presented.