Bollywood Today
Ash-The Cannes Heroine
The only Indian constant at the Cannes Film Festival has been Aishwarya Rai. That was who she was when she began her annual appearances, and even now that she is a Bachchan, her yearly appearance has not changed. What is surprising is that India has yet to make a representation at the festival, but the Indian glamour has been there for the people year after year. Aishwarya first went as a member of the jury, and later appeared to represent the cosmetic brand she endorses. While there have been several others who have been with her, including her in-laws and husband on the personal front, and other heroines who have also been a part of her brand, Aishwarya has been the one unchanging element. This year, Aishwarya will be announcing her latest film 'Heroine' which she will be working on with Madhur Bhandarkar. Given the love and acceptance that Aishwarya has found in Cannes, this is sure to be welcome news for everyone present.
Singing His Own Tunes
Many things better with age – wine being the ideal example. However, the best instance today seems to be Amitabh who is at his prime, and is still unstoppable. Whether with his appearances or even his performances, there is nothing short of perfection in anything he does. Although he has been known to lend his voice to some of his songs, Amitabh will belt out his most popular songs in a medley for his latest film 'Buddha'. While his baritone has been a constant hit, his songs have also been iconic. Whether it is the songs that gave his voice the appreciation or vice versa, the two have been a great combination. We look forward to getting the magic to us all over again. And while the songs may be already released and loved numbers from old films of Big B, they have been recorded again, and have been presented with a more contemporary feel. Looks like this one is sure to find scores of takers.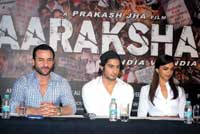 Legal Issues for Homeless Aarakshan
While there is always news and anticipation surrounding all the films made by Prakash Jha, there is news of another kind here. While shooting has been continuing at its usual pace and the film is readying itself in stages, there is a huge stumbling block that has been encountered. The team had erected a set in the city of Bhopal, which was razed by the government since it was erected on disputed land. What has irked Jha is that everyone was completely aware that this was only a set which was temporary and to be removed within the month, and there was no need for such drastic action. Since he had no idea that the land was disputed, he went ahead with the creation of the set over one and a half acres of land.
No matter what his position, Jha now has the task of recreating the set, and completing the shoot. While planning for the next few scenes with stars Deepika and Saif, he has been thrown off guard. Wonder how he will pull himself together this time.
The Charm of The 40+ Heroine
Ladies come into their own with time, and anyone who thought that women start to age after 40, think again. Here is a supreme example of how the glowing forties bring on new charm and grace, and well, a new lease of life. Farah has been known as choreographer, and now as director. She will now be the leading lady in the latest Sanjay Leela Bhansali Film. Although the film is not about sexy glamorous looks, Farah certainly has plenty to gloat about. And while she may joke and talk about how she is half Parsi and that was what got her the role, or a host of other things, there is obvious potential here. We look forward to 'Shirin Farhad' and to the magic that Farah and Boman are sure to create for the audience. With the able hands of Sanjay and Bela to guide us through, and the definite subtleties that Farah is bound to bring with her own acumen, we can just see this one being a hit. What is sure that there will be lots of laughs and plenty of entertainment for everyone. Maybe it is time for the size zero's to move over, and let the women of true substance take over.