BOLLYWOOD TODAY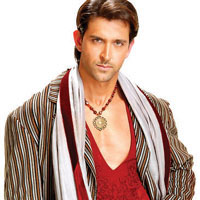 Hrithik is highest paid Indian star
It isn't official as yet, but Bollywood star Hrithik Roshan has gone beyond any actor's pricing after signing a deal with Adlabs at a reported price of a whopping Rs.350 million (US$ 7.5 million). Adlabs apparently signed the Krrish star for a three-film deal.
Hrithik's reported price would change the entire pricing system in Bollywood, spiraling star fees.
Hollywood casts Om Puri as Ziaul Haq
The veteran Indian actor has been chosen to play Pakistan's former military ruler, General Muhammad Zia-ul-Haq, in a Hollywood production about the CIA's role in arming Mujahideen rebels in Afghanistan. Om Puri said he had been cast in Universal Pictures' "Charlie Wilson's War" alongside Tom Hanks and Julia Roberts. Gen Zia ruled Pakistan from 1977, when he took power in a bloodless military coup, until 1988 when he died in a still unexplained plane crash.
Puri has starred in several Hollywood productions in the past, including "Gandhi," "City of Joy," "East is East" and "The Ghost and The Darkness" in a career spanning about 30 years.
Bollywood movie Munnabhai MBBS to be remade in USA
Tables are being turned now with an Indian comedy, Munnabhai MBBS, set to be remade by Hollywood under the title Gangster MD.The Sanjay Dutt blockbuster about a gangster who pretends to be a doctor whenever his parents turn up, will be directed by Mira Nair and will star Hollywood action star Chris Tucker in the lead.
Filming is expected to begin after Tucker finishes Rush Hour 3 with Jackie Chan in Paris this summer. Nair is on the lookout for Indian stars.
Amitabh Bachchan gets honorary doctorate
The University of Delhi has honoured one of its most famous alumni, Bollywood actor Amitabh Bachchan, with a doctorate.
An emotional Bachchan, 64, received the honour amid a standing ovation. He was a BSc student at the university between 1959-62.
Among others, Delhi Chief Minister Sheila Dikshit was also honoured on this occasion for her good governance and innovative style of working.
Sushmita Sen auctions her painting for a cancer hospital in Pakistan
Indian beauty queen-turned actress Sushmita Sen has been hiding her other talents she is also an artist. The actress, who says she mainly paints as a hobby, recently sold one of her paintings at a charity action for $55,000. "I paint, but for myself and sometimes for my friends. I have never taken it up as a profession," she said. "This is the first time that I put up my paintings for an auction, to raise money for charity. I'm glad it's gone for a noble cause." The painting titled Ibaadat was sold during a telethon to raise money for a cancer hospital in Pakistan. The buyer was not identified. Sen, 30, was crowned Miss India in 1994, and went on to win the Miss Universe pageant the same year. She has since acted in nearly 30 Hindi language films.
Abhishek voted most attractive Asian male
Filmstar Abhishek Bachchan tops a list of 50 Sexiest Asian Men in a survey conducted by Eastern Eye. Abhishek was number three last year.
Actor John Abraham, who won the Eastern Eye's title last year, is at number two. British Asian boxer Amir Khan is at third place, making him the sexiest male of the community in 2006 — a stunning rise from 44th place last year that reflects his boxing achievements this year.
Amitabh Bachchan was ranked at number 16. Other British Asians in the list include singer Jay Sean and actor Naveen Andrews.
The top 10 sexiest Asian men are:
Abhishek Bachchan
John Abraham
Amir Khan
Hrithik Roshan
Dino Morea
Yatin Sonic
Upen Patel
Arjun Rampal
Saif Ali Khan
Jay Sean