Bollywood Today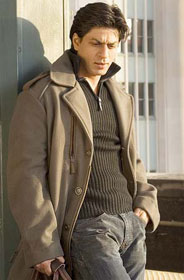 ShahRukh Khan will have multiple releases this year
This year awaits big releases for Shahrukh Khan. To begin with, Chak De India will be released in theatres in August. Next in the line is SRK's home production Om Shanti Om directed by SRK's good friend Farah Khan and opposite model turned actress Deepika Padukone making her Bollywood debut. The movie is made under SRK's own banner Red Chillies Entertainment. Finally, Shahrukh will be once again paired with Sushmita Sen in Vivek Vaswani's Dulha Mil Gaya, Say Yes To a Relationship.
At the same time, Shahrukh will be seen essaying the role of a super hero in Shirish Kunder's flick titled Joker, which will be made under his own banner. If the reports are to be believed Shahrukh will also be working with Munnabhai fame Rajkumar Hirani. There is also buzz that he will be doing an art film to be directed by a new comer. Indeed, the year is almost full of Shahrukh Khan.
Mentioning Shahrukh, in fact, the Bollywood industry is abuzz with the King of Bollywood, the first comprehensive narrative account of Bollywood published by a major US publishing house, Grand Central Publishing (formerly Warner Books). The central theme of the book reveals how Shah Rukh Khan, a middle-class Muslim boy from Delhi, broke into the insular, nepotistic world of Bombay show business and emerged as a superstar. His larger-than-life tale takes us through the colorful and idiosyncratic Bollywood movie industry. The book is written by internationally renowned film critic Anupama Chopra who combined her knowledge of the Bollywood industry with firsthand interviews and exclusive photographs for an exclusive, insider's look at Shah Rukh Khan and the world of Bollywood.
KABIR BEDI TO BE BESTOWED INTERNATIONAL AWARD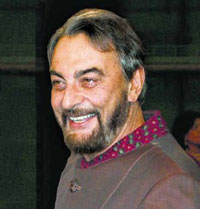 After presenting awards at the IIFAs in England as well as at the prestigious Italian national Donatello Awards, Kabir Bedi is now set to receive a lifetime achievement award from the Pegaso d'Oro (The Golden Pegasus Award) in Italy. Kabir is a household name in Italy with a 'super hero' status and his comeback to Italian television has been a roaring success since his international role as Sandokan. The popular actor, whose career spans thirty years across three continents, was presented
the prestigious Pegaso d'Oro award at a glittering ceremony in Pescara, Italy, in early July. Previous recipients of the Award have been major international figures as well as internationally known Italian names. This year's winners include Willem Dafoe, Dario Argento and Stefania Sandrelli.
HRITHIK'S DEAL WITH ADLABS NOW CLOSE TO REALIZATION
Hrithik Roshan's Rs 35 crore three-film deal with Adlabs is finally materializing. Adlabs has signed Ram Gopal Verma in a big money contract to make an action film with Hrithik. The film will be a stylish action film, based in Afghanistan and tentatively titled Aryan. The next in line is Shikhar, which is to be directed by John Matthew Mathan of Sarfarosh fame. Presently, the actor is busy shooting for Jodha Akbar with Ashutosh Gowarikaar.
BHATT'S AWARAPAN GOES GLOBAL
The Bhatts must be rejoicing at the wide international visibility given to Awarapan. Following the film's release in cinemas in Pakistan, the film has also been released in regular international circuits like the US, UK and UAE, as well as in as many as in 14 other countries such as Indonesia, Spain, Norway, Malaysia, Mauritius, Singapore, Fiji, East Africa, South Africa, Philippines, Denmark, Srilanka, Morocco and Thailand. It will even be opening in Ireland very soon!
AND – SHILPA CANNOT BE KEPT OUT OF NEWS
Indeed, Shilpa Shetty continues to fly high. After bagging a true blue international venture, Uru Patel's Hanuman where she will play the role Seeta, comes the news that former heavyweight boxing champion Mike Tyson wishes to work with the actress in a Bollywood movie. Tyson, who recently did a promotional video for Feroz Nadiadwala's Fool N Final, has admitted to his new found love for Bollywood films. He now wants to act in more films and Shilpa Shetty is on the top of his wish list of co-stars. On the other hand, Shilpa is finalizing the details of her Broadway musical, which will be along the lines of 'Moulin Rouge' and Andrew Lloyd Weber's 'Bombay Dreams.' Reportedly keen to showcase Bollywood and Indian culture in the West, Shilpa's costumes will be designed by popular Indian designer Neeta Lulla and will represent the ethics and culture of India while renowned Indian choreographer Ganesh Hegde will set the steps for the musical. Starting with shows in the United Kingdom for the first three months, the musical will then travel to other parts of the world including the United States and Australia.
DIRECTOR'S CORNER
Nagesh Kukunoor is on a high these days. Just after finishing Subhash Ghai's Bombay to Bangkok, he commenced the
shooting of John Abraham's "Aashayein." The movie that went on the floors on June 1st in Hyderabad is being shot in a single start-to-finish schedule. The unit of the film has now shifted to Pondicherry. After that, Nagesh will get busy with the post-production of both Bombay to Bangkok and Aashayein. That will not be all, because come September, Nagesh will start shooting with Akshay Kumar for Tasveer. Director Nikhil Advani made a mark for himself with Kal Ho Naa Ho, directing for Karan Johar's home banner, Dharma Productions. His first attempt to break away from Dharma, Salaam-EIshq, ended in a failure. However, the big-canvas director is undeterred and is now moving on to his next few projects, starting with his big-budgeted animation film. Next on the anvil for Nikhil is the Akshay Kumar-Deepika Padukone project, tentatively titled, Mera Naam Chin Chin Choo. The action flick may well be shot in Shanghai, China, but only as early as next January.
The shooting of Rakesh Roshan's newest venture Krazzy Four was launched recently with a song recording at Krishna Audio. Music director Rajesh Roshan, lyricist Javed Akhtar, and director Jaideep Sen were present for the occasion. This will be the first time that Rakesh has opted for other stars like Arshad Warsi and Rajpal Yadav rather than his son, the sensational Hrithik Roshan. However, Rakesh Roshan has clarified that it will not be a small project and Krazzy Four is going to be a big budget venture. The movie will feature for the first time Hrithik Roshan performing a grand item number.
ASH IS AGAIN AT THE TOP Saving the best for the last
Her marriage with Abhishek Bachchan seems to have added an extra dimension to the hazel-eyed beauty  queen Aishwarya Rai Bachchan. A marked manifestation of this can certainly be the fact that she garnered the ninth position in a poll of the 100 most beautiful women of today in the July issue of Harpers and Queen. The position holds tremendous importance as the list is topped by Hollywood beauty Angelina Jolie followed by model Christy Turlingron, Queen Rania of Jordon, Director Sofia Copolla, and celebrity chef Nigella Lawson. Aishwarya ranked higher than actress Scarlett Johansson, singer Beyonce Knowles, and supermodel Gisele Bundchen among others. Coincidentally two years ago Ash secured exactly the same spot in a similar poll. Elated husband Abhishek has nothing but praise for his beautiful wife and has reportedly said, "I have the best wife in the world."