Celebrating the Anniversary of Swami Vivekananda's Birth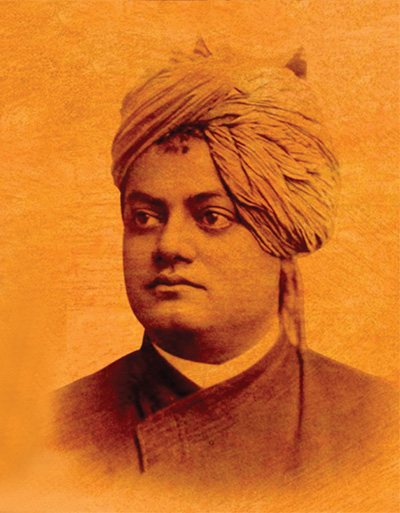 ---
Editor's Note
Born into the aristocratic Bengali Kayastha family in Calcutta, Swami Vivekananda ji was born as Narendranath Datta on January 12, 1863. He was a key figure in the introduction of the Hindu philosophies of Vedanta and Yoga to the Western world. He is credited with raising interfaith awareness of Hinduism's status as a major world religion (doing so during the late 19th century).
Let us remember him and celebrate his birthday by pledging to be proud Hindus and ambassadors of Hinduism in this Western world.
                        Raj Shah
Managing Editor, Desh-Videsh Media Group
---
In September 1893, when Swami Vivekananda arrived in Chicago, USA, to deliver his now-iconic address at the Parliament of Religions, the Western world didn't think much of the saffron-robed Indian representative. Within a few days, however, that view had altered dramatically, as the power of Swamiji's words and persona had already traveled far and wide. After winning over his audience at the Parliament of Religions in Chicago, he began giving talks all over the eastern part of the USA, traveling by steam locomotive. He startled and amazed his American listeners with the message that all religions are valid paths to God; that human beings, in their essence, are none other than the divine being himself; and that it was the goal of life for each individual to realize this truth as a fact of experience. In his own powerful words: "Come up, O Lions! Shake off the delusion that you are sheep. You are spirits free–blessed and eternal." He had realized these truths at the feet of his guru, Sri Ramakrishna, who lived in a Kali temple north of Kolkata.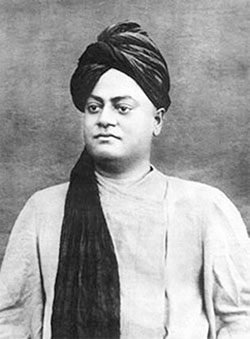 Swamiji became known as the "Cyclonic Monk." Wherever he went he stirred things up and great excitement would attend his talks.
Swamiji was invited to teach in August 1894 at an interreligious camp meeting (living in tents) in Greenacre, Maine, USA. This had been inspired by his Chicago addresses. He was in his element there, lecturing under a towering pine tree to a circle of eager students sitting with him on the ground. After leaving, he decided he had had enough of travel and audiences. He wanted to settle down and have students so he could leave something permanent in America. He debated between Boston and New York. He said to himself, "Boston is the Athens of America, but New York is Rome." He chose Rome. That autumn, he gave a series of packed lectures at the Brooklyn Ethical Society; and he founded the Vedanta Society of New York.
In January 1895, he left the fancy residence of Dr. Guernsey and moved into his own quarters at 54 W 33rd St. in Manhattan. This was a somewhat disreputable neighborhood. Some friends of Swamiji warned him that the "right sort of people" would not come there. However, they did. It was said that his rooms used to be full to overflowing. When the chairs were all taken, people would sit on tables and on the floor and even outside the door. Josephine MacLeod, who became a lifelong friend of Swamiji, said that what she heard from him–from his first word to the last–was truth. Frank Leggett, a wealthy businessperson and pious Episcopalian, also attended. He heard Swamiji say, "I don't want to make you into Hindus. I want to make you into better Christians." He was touched by this message and began taking a fatherly interest in Swamiji.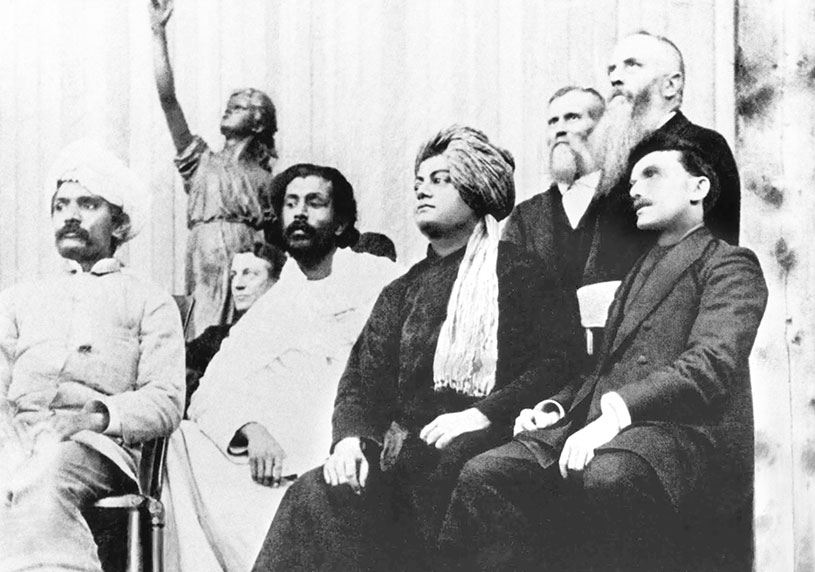 Swamiji always kept himself occupied, giving talks twice a day on most days. Seeing how exhausted he was, Leggett invited him to take rest at his weekend residence, Ridgely Manor, about 100 miles north of the city on the west side of the Hudson river. He loved to meditate there under a giant oak, and that spot is especially marked at the Vivekananda Retreat, Ridgely, now established on the grounds of Ridgely Manor. That summer, Swamiji gave classes to a group of students at the summer home of one of them at the Thousand Islands Park. Those talks can now be read in a book titled Inspired Talks.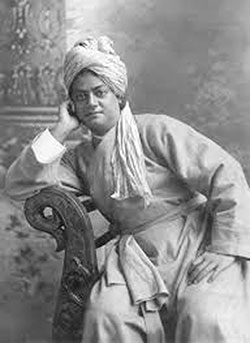 In the autumn of 1895, Swamiji traveled to England, stirring things up there. When he returned in December, in addition to giving classes, he started publishing four yoga books. Raja Yoga, an introduction to and commentary on Patanjali's Yoga sutras.
He made a strong impression on his audiences across the world. The great psychologist and philosopher, William James put it into practice, reaping great psychological and spiritual benefits.
Swamiji was invited to Harvard, where he spoke before the Graduate Philosophical Club. He made such a deep impression on the dean and other professors that he was offered a full professorship (which he declined). The dean, in an introduction to the published lecture, wrote that Vivekananda enabled him to understand that the Vedanta is the actual beginning of all philosophy.
One of his New York students asked Swamiji why he never spoke about sin. He replied, "Blessed are my sins … It is my sins, as much as my virtues, that have made me what I am today." Another spoke of the overwhelming force of his presence, saying that some among his audience at various lectures were literally exhausted. However, Swamiji wanted everyone to maintain independence.
On Swamiji's second visit to the West, during one talk in New York, he became aware of his power over his listeners and abruptly left the platform for fear of turning them all into disciples. Another teaching surprised Americans: "Humans are God. To serve them is worship." Josephine MacLeod would say his power lay in the courage he gave others to put these lofty teachings into practice.