Charlotte Mehndi Competition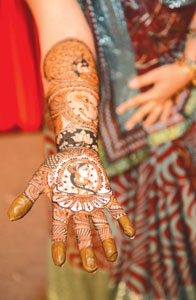 Recently, Desh-Videsh sat down with the winner of the 2012 Charlotte Mehndi Competition, Poonam Parmar. Poonam provides her services nationwide. Learn more about Poonam and what inspires her designs.
Mehendi designs
For those who are not familiar with you or your work, can you share a bit on how you got started in the wedding industry?
I have over 10 years of experience in this industry. I started at a very young age. I was fascinated with the art of henna, so I began professional training in Mumbai India. Over the years, I mastered the art. Once I had the experience and appreciation from others began to come my way, I decided to turn this passion into a career and become a professional artist.
How does it feel to be the winner of the MyShadi Bridal Expo Mehndi Competition?
Mehndi Competition
MyShadi Bridal Expo Mehndi Competition
It was a wonderful experience, and I truly feel humbled. A big thanks to the MyShadi Expo for providing a stage for this competition.
Your passion for this art form is evident. What inspired you to become a Professional Henna Artist?
Henna Artist
Basically I am very good at sketches and innovating new designs. I am constantly trying new methods. A henna artist needs lots of passion and should value hard work – that is totally me! The best part is seeing the joy on a bride's face and experiencing true satisfaction with your own work. For me, this is the only field where there are tremendous opportunities to enhance your artistic abilities and and grow as a person everyday.
What inspired your winning Mehndi design?
Mehndi design
There was no true inspiration. The design just came to mind, and I worked hard and let my heart make it a reality. In the end, the design came out beautifully.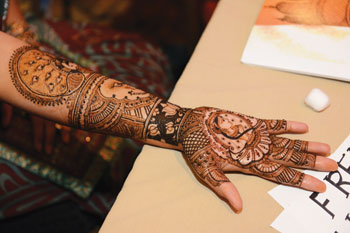 What other wedding related services you offer?
wedding related services
I only provide henna services. I offer bridal packages as well as a package for doing henna on wedding guests. In addition, I do sell gift articles such as wooden boxes and candles decorated with henna.
What is the biggest lesson you learned your first year in business?
Bringing fresh and new designs to the table definitely helped me in my first year. I have learned to always listen to your clients needs so that I can try to modify designs as per their likes and dislikes. Trial and error is not something that works in this business!
The economic climate affected the U.S. wedding industry in a profound way over the past years, including the normally untouchable high-end segment of the market. To what extent did it affect Indian weddings and your business?
I have not seen any obvious change yet. While many people may have found ways to cut their budget and cut corners, everyone is always enthusiastic about henna. As such, I have not noticed any differences in budget when it comes to bridal mehndi.
Bridal Mehndi
What suggestions do you have for brides planning their wedding?
brides planning their wedding
I definitely suggest that they plan and book early. If they are not sure about something, they should meet personally with the henna artist or event managers to view samples to get a full idea of what to expect. The best thing is to take a look at magazines like Desh-Videsh and attending bridal shows. Venues like this are legit and have a large number of resources.
Do you have any suggestions for brides who are planning their wedding mehndi?
wedding mehndi
Meet with the mehndi artist and find out if they use their own designs/creations. There are so many factors to consider, so if possible, try to meet with the artist in person and book in advance.