Color TV's Roop-Mard Ka Naya Swaroop Off Air
Color TV's Roop-Mard Ka Naya Swaroop Off Air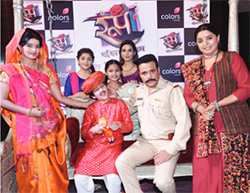 Recently there have been a lot of rumors regarding a few TV shows that might be going off-air soon, such as Star Plus' Yeh Hai Mohabbatein and Nazar. One show, however, that is going off-air for sure is Color's Roop-Mard Ka Naya Swaroop, starring Shashank Vyas and Donal Bisht.
The show's lead actor Shashank Vyas confirmed the news. In an interview with a leading portal, he said, "Yes, the show is ending. Everything good comes to an end. It was a fantastic run until it lasted." The show is directed and produced by Rashmi Sharma, of Rashmi Sharma Telefilms. The show will be going off-air in May, just a year after it went on-air.
In discussing the reason behind its early wrap-up, a source associated with the show told TOI, "Though the show has a unique storyline, it couldn't rake in the expected ratings. We have been informed that the show will end in the second week of May."
The show also stars Yash Tonk, Mitaali Nag, Mohammad Nazim, and Neil Bhatt. Reports have also come in that Roop will be replaced by the second season of Ekta Kapoor's Kasam Tere Pyar Ki, which featured Ssharad Malhotra and Kratika Sengar.