Consider a Dream Destination Wedding in Florida By Satya Nauth Dharamedo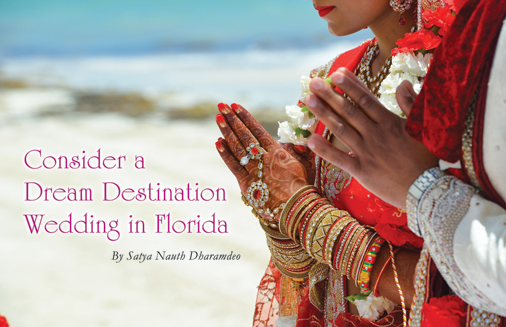 So your big day is approaching and you're considering every unique possibility for a memorable wedding. Consider planning a destination wedding in Florida. Destination weddings echo lofty feelings of one's dream wedding in paradise. It has the likelihood to be exotic, fierce, one of a kind, and memorable for the friends and family you have invited to share your special day. Having clarity of thought and a written plan are imperative when it comes to having a well-planned and smooth celebration.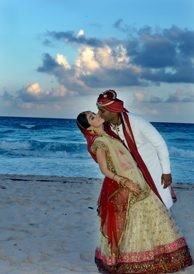 It is true that Florida is a touch of paradise, and whether you envision a quaint setting for your wedding or a big momentous occasion, you can fulfill your desires for a beautiful day in this state. A destination wedding will set you a part from the predictability of a traditional wedding. Destination weddings open up opportunities to be truly creative and artistic.
The locations for your dream destination wedding in Florida are countless. Whether you dream of a barefoot wedding or a formal affair, you will be sure to find your heart's desire in Florida. You can choose the snowy beaches of Fort Lauderdale, where you can experience the unique grandiose culture of the area or become awestruck by the splendid nature and tranquility on one of the many Florida Keys. If you're aching to overwhelm the senses with a breathtaking sunset and infinite ripples of the waves, experience Cocoa Beach. There are innumerable resorts from which you can choose that are gorgeous and directly on the beach.
The options are truly endless in accomplishing the greatest feat of planning a wedding – choosing your venue for a perfect day! If you would like to be impressed and stun your guests, choose a lavish yacht ceremony overlooking the changing waters in Space Coast, Florida.  The waters astound the eyes as you witness a tantalizing change from midnight blue to enchanting turquoise. If you're worried about rain on your special day consider Clearwater, Tampa as it is noted in the Guinness Book of World Records for having the "most days of sunshine." Become captivated with the beautiful ranches in Naples. Maybe you envision arriving on a horse as you and your guests enjoy a peaceful ceremony in the eyes of God and nature
It is up to you whether you would like to self-plan your wedding or hire a wedding planner to see your vision come to pass. Many resorts and wedding planners have flexible packages to accommodate your every whim. Take the time to put your plans on paper and do the research about your dream destination wedding in Florida. Destination weddings are not only favored by the bride and groom, but also by your family and friends who long for a mini-vacation! Your dream destination wedding in Florida will be the talk of the town and one to be remembered for years to come.
About Satya
Satya Nauth Dharamdeo resides in South Florida with her husband and two lovely and adorable children. Through her blog "The Change Factor," she promotes the idea of adopting positive thinking to change our lives. She hopes to complete her first book by November 2015.