Cuccinelli Announces USCIS' FY 2019 Accomplishments and Efforts to Implement President Trump's Goals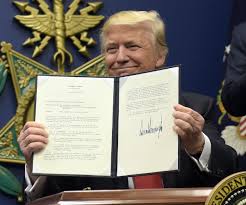 WASHINGTON—U.S. Citizenship and Immigration Services (USCIS) today released preliminary fiscal year 2019 agency statistics, accomplishments and efforts to implement President Trump's agenda. These preliminary statistics highlight important immigration trends and illustrate the work accomplished by USCIS in FY 2019. The agency will publish final, verified FY 2019 statistics later next month.
"FY 2019 has been a historic year for USCIS and we have achieved many of President Trump's goals to make our immigration system work better for America. As an agency, we have worked hand-in-hand with our fellow DHS components to answer President Trump's call to address the ongoing crisis at our southern border. In the face of congressional inaction, we've taken significant steps to mitigate the loopholes in our asylum system, combat fraudulent claims and strengthen the protections we have in place to preserve humanitarian assistance for those truly in need of it," said USCIS Acting Director Ken Cuccinelli. "Meanwhile, the men and women of USCIS continue to administer our nation's lawful immigration system, processing a large number of applications and requests while naturalizing 833,000 new U.S. citizens, an 11-year high.
"In the coming year, we will continue to use every tool available to us to deliver on President Trump's promises to the American people. We will continue to fulfill his goals to strengthen our nation's strained immigration system and alleviate the crisis at our border while the agency continues to fairly and efficiently adjudicate the applications of those seeking lawful status in the U.S."
Crisis Response and Asylum Reform
Absent congressional action to provide targeted fixes to our immigration system, USCIS rushed personnel and resources to our southern border and implemented a number of significant policy changes and reforms designed to help reduce the loopholes in our nation's asylum system that allowed for crisis levels of abuse and exploitation.
U.S. Citizenship
fiscal year 2019
President Trump
USCIS
Trump's goals
immigration system
U.S. citizens
America