Desh-Videsh 2012 Atlanta Mehndi Competition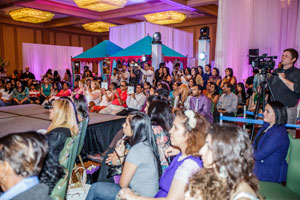 Learn more about the winner of the 2012 Atlanta MyShadi Bridal Expo Mehndi Competition, Nirjary Desai. Nirjary is a Principal Project Manager at KIS Cubed Events, a full service wedding and event planning company based in Atlanta, Georgia.
Desh-Videsh: What inspired your winning mehndi design?
Nirjary: I have been doing mehndi for over 10 years, and have always been in to art, music, and other creative outlets. I find inspiration in people, their jewelry, and attire. One the day of the competition, I used that inspiration and just let my mind take over.
DV: What other wedding related services you offer?
Nirjary: We are a full-service event planning firm that focuses on the A-Z of events. We can assist a bride in completing her style and look with hair, make-up, and mehndi.
DV: When and how did you expand from Mehndi Artist to a full-fledged wedding planner?
Nirjary: I have been doing weddings and events for over 10 years. For five years, I worked in corporate America for American Airlines, Starwood Hotels & Resorts, and then later got recruited to Preferred Hotel Group. About five years ago, I started my own company and threw myself into the business full-time. Since then, I have not looked back!
DV: For those who are not familiar with you or your work, can you share a bit on how you got started in the wedding industry?
Nirjary: I fell into this industry by accident as it all began by doing my friends weddings focusing on hair, make-up, and mehndi. Through word of mouth referrals, my business grew. I then noticed a major gap in the ethnic market when I worked in corporate America and launched this aspect of my business. Trust me I don't do this for the money, I do it because it's my passion that has turned into my profession.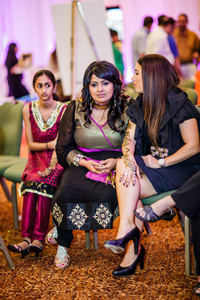 DV: There are many wedding planners in the industry, what makes you different?
Nirjary: I think what makes us different is that we offer clients a wide-range of services. More importantly, I am very involved in the whole process and really take pride in holding my client's hand through the whole process. Most of all, I understand their needs and don't sugar coat anything – we are to the point! My clients love that about KIS Cubed Events since we don't try to sell ourselves on services we don't provide. We aim to be open and honest and that is very important to feel respected as a client.
DV: How do you maintain a balance between work and family?
It can be very hard because we do travel a lot, but everyone has to pay their dues for their passion and profession. I try to take time out for myself on a weekly basis, but sometimes it doesn't happen because I am very focused about what I do, and I don't let anything get in my way of that. The best part is my family and friends have been very supportive with me over the years. Their understanding automatically creates my balance and support system!
DV: What are your own plans for your own wedding?
I'm currently single and don't have any plans yet … except to find Mr. Right! If and when I have my own wedding, I want to get married in Africa where my parents got married. I would like to recreate their own wedding as my own since they have no pictures. I want to recreate their memories. However it happens, it will be outdoors and I will keep it simply, sophisticated with style!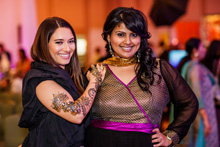 DV: The economic climate affected the U.S. wedding industry in a profound way over the past years, including the normally untouchable high-end segment of the market. To what extent did it affect Indian weddings and your business?
Nirjary: The economy has impacted my business in the same way that others have been affected. We have had to stay creative in how we market to our clients. It has been a good test of time to see how can we still move forward as we were not going to let the economy stop us.
DV: What is the biggest lesson you learned your first year in business? What was the biggest lesson you learned in this past year of business?
Nirjary: Every day is a learning curve and a lesson. I think one of the biggest things I've learned is to always stay on top of your game. Don't try to be someone you are not, and always remember, the customer is always right! At the end of the day we are in the service industry!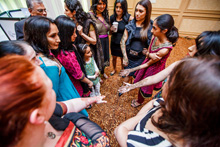 DV: What has been your favorite wedding or moment that stands out to you and why?
Nirjary: So many moments stand out! One of the best moments is when we build a friendship with our clients after their event is over and we see them grow and add to their family. When my clients call me to tell me they are going to have kids and still include us in those parts of their lives, it is a different kind of joy. Just to think that they still remember you and you left a memorable mark for them it just is so fulfilling! I love those calls and moments for all of us!
DV: You are based in Atlanta, but do you provide your services only in that area?
Nirjary: Atlanta is where we are headquartered, but we have done events nationally and internationally. Our services have no boundaries or borders. We have been to London, India, Aruba, Cancun, Dominican Republic, The Bahamas, and many other destinations in the United States.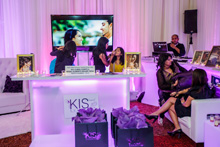 DV: What suggestions do you have for brides planning their wedding?
Nirjary: Have realistic and reasonable expectations, and keep in mind you go to vendors for services. The vendors are the best in their industry, so be respectful of what they provide and their time. You want to be taken care of and these are the people that will make your life stress free and special. If you take care of them, they will take care of you in more ways than you can know. No one in this industry does it for the money, they do it because they are passionate. Keep that in mind when you hire your vendors, as passion and professionalism don't come with limits!
Nirjary Desai has been an event planner for over 10 years. Visit KIS Cubed Events at www.kiscubedevents.com to learn more about the many services Nirjary and her colleagues can provide.
.