Desh-Videsh Media Group announces the release of children's book We love Diwali
Sunrise, Fla., December 6, 2017: Desh-Videsh Media Group announces the release of children's book We love Diwali, which takes readers on a journey of how Hindu, Jain, and Sikh families living in America come together to celebrate Diwali, the festival of lights.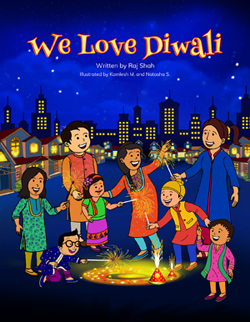 This is the first in an educational series of books for children on Hindu religion and culture. The primary goal of the series is to share knowledge of the Hindu religion, traditions, and culture of children living all over the world.
Written by Raj Shah, We love Diwali takes you inside the homes of families living in America, where children of diverse faiths celebrate Diwali together. In their own words, the children take turns explaining the different customs and traditions celebrated by Hindus, Jains, and Sikhs during this multi-day festival. The children gather together to participate in a Diwali pooja and are especially excited because this is one day when they perform the rituals rather than their parents! Of course, no Indian festival is complete without delicious food, so the children end the day by eating Diwali mithai (sweets) and by lighting fireworks.
The book explains the significance of Diwali in simple language and includes colorful, bold pictures making the text easier for children to understand. The book comes in three languages: English, Hindi and Gujarati.
We love Diwali is registered with the American Wholesale Book Company, Library of congress, Baker & Taylor, Follett Library Resources and Ingram. The book is available online at amazon.com, amazon.in, and deshvideshpublishing.com.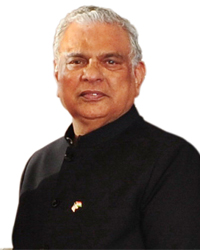 About Raj Shah
A software engineer by profession, Indian culture enthusiast, ardent promoter of Hinduism, and a cancer survivor, Raj Shah is a very positive and forward thinking person. Living in the United States since 1969, he considers the US as his Karmabhoomi, but does not forget his Mathrubhumi India even for a minute.
Promoting the rich culture and heritage of India and Hinduism has been his motto ever since he arrived in the US. Keeping those principles in mind he co-founded an organization – the VIP (Volunteers of India's Progress) Club in Clifton, New Jersey, in 1972. Since then, he has been instrumental in promoting several community organizations. He serves as a Chairman of Board of Directors, Hindu University of America, South Florida campus.
Raj has written several articles on wide variety of subjects like, Hinduism, Indian culture, Hindu wedding and Indian Festivals. He has also written two books titled, Chronology Of Hinduism- Documenting the History of the World's Oldest Religion and Understanding Hinduism –The Basic Facts about Hinduism and Frequently Asked Questions. He has also written a few Children's books, Holi Hai, The Complete Ramayana in 100 Tweets and Welcome to my beautiful Mandir.
Grand dad of four lovely grand children, Raj is a family man and strongly believes in the old Hindu concept of Vasudhaiva Kutumbakam –"The whole world is one family."
You can follow Raj Shah on Facebook at https://www.facebook.com/rajshahusa.
To set up an interview or a book reading and signing, please contact Raj Shah
About Desh Videsh Media Group
An active part of the Indian subcontinent community in the United States since 1993, Desh Videsh Media Group (DVMG) keeps traditions alive and instills new generations with a sense of cultural awareness. DVMG serves and supports members of the Indian subcontinent community with inspirational and educational media and empowers readers with an awareness of local, national and international news, events and social happenings. Through its print publication, book series, web portal, bridal shows, weekly e-newsletter, and e-marketing, DVMG reaches Indians, Pakistanis, Bangladeshi, and Indo-Caribbeans worldwide.