Desh-Videsh Presents Leading Indian CEOs
The recent announcement by Google Inc. to appoint a 43 year old Indian, Sundar Pichai as the CEO of Google has created a tremendous ripple. It has bought back the focus on tremendous success of Indians in the Silicon Valley, the past few decades. Indians constitute the largest number of immigrants to occupy the top positions in the field of technology in the global market. Let us course through a few CEOs of Indian origin who have brought great pride and honor to our country by heading corporations of over $400 billion+ annual collective revenue.

Sundar Pichai
CEO of Google
The 43 year old Sundar Pichai was born in Tamil Nadu. He topped the Metallurgical Engineering, from IIT Kharagpur and migrated to the US in 1993, where he studied MS from Stanford University and an MBA from the Wharton School of the University of Pennsylvania. Sundar worked in engineering and product management at Applied Materials and at McKinsey & Company prior to joining Google in 2004. In Google, he headed the product management and innovation efforts for major revolutionary products like the Google Chrome, Chrome OS and Google Drive. He was the driving force behind the introduction of Android phones in India. His low key style of leadership which attracts team building and team work along with his exceptional diplomatic skills has led to his meteoric rise in just eleven years to the CEO position in this giant restructured company.

Satya Nadella
CEO of Microsoft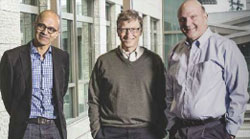 Hyderabad-born Satya Nadella first completed his engineering degree from Manipal Institute of Technology. Then he did his Masters in Computer Science from the University of Wisconsin and MBA from the University Of Chicago Booth School Of Business. He first worked in Sun Microsystems before joining Microsoft. His two decades of hard work there led him to the position of third CEO of Microsoft in 2014. Nadella has been recently ranked amongst the world's 72 most powerful people by the Forbes magazine. He is the first Indian to head the world's biggest software company.

Indra Nooyi
CEO-PepsiCo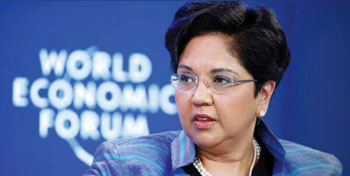 Nooyi too is Chennai born like Pichai. She worked in various firms like Johnson & Johnson, textile firm Mettur Beardsell, Boston Consulting Group (BCG), Motorola and Asea Brown Boveri to finally join PepsiCo in 1994. Here she elevated to the position of president and the CFO in just seven years of span to being its CEO in 2011. This charismatic 59 year old woman is not only the sole Indian woman to reach this height but consistently features in Forbes 'The World's 100 Most Powerful Women' list of the last decade. Leading the company's global strategy for over a decade, Nooyi also enjoys the distinction of being consistently amongst the top five of the World's 100 Most Powerful Women.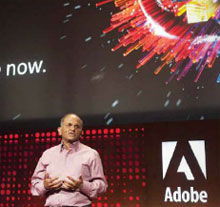 Shantanu Narayan
President & CEO, Adobe
Shantanu Narayen from Hyderabad embarked on his career at Apple and moved ahead to join the well-known software company, Adobe as vice-president of worldwide product research in 1998. This 50 year old dynamic leader was promoted to the coveted CEO position in 2007.Today he is also on the Management Advisory Board of the current President of the States. He did his bachelor's degree from Osmania University, masters in computer science from Bowling Green State University and MBA from Hass School of Business. Brendan Wood International selected him as one of the "The TopGun CEOs".
Other Indian CEOs worth mentioning are Ajay Banga, MasterCard; Ivan Menezes, Diageo; Sanjay Kumar Jha, Global Foundries; Nikesh Arora, SoftBank Internet and Media inc,; Francisco D'Souza, Cognizant etc. With this list showing no signs of abating, it is not really a surprise if Time Magazine hails India as the "ideal training ground for global bosses" and the leading CEO exporter.