Desi TV Duniya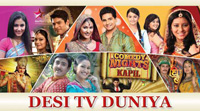 Sapne Suhane Ladakpan Ke approaches finale
Zee TV's popular show featuring Ankita Gera, Roopal Tyagi, Mahima Makwana and Piyush Sahdev ended the last week of January. The show has entertained audiences for more than two years and concluded with a grand finale, as is revealed by sources close associated to the makers. The stars of the show were informed about the finale. Chances are that it may be extended for a week or so beyond the end of January, but it will surely conclude. According to reports, this show will be replaced by another by the same producers.
 Three popular shows all with same theme
Qubool Hai, Uttaran and Humsafar, three extremely popular shows running on three different channels are all set to surprise audiences with a similar sequence. Yes! Each of these shows was scheduled to shoot a sequence involving the protagonist walking on fire and glass. While Uttaran and Humsafar went ahead with the idea, Qubool Hai decided to drop the sequence at the last minute fearing too many similarities with the other two shows. For Uttaran, the dramatic sequence was scheduled as part of its finale and therefore the makers did not have the liberty to alter their decision.
Rashmi Pitre finally quits Diya Aur Bati Hum
Actress Rashmi Pitre, best known for her supporting role as Chaturi in the hugely popular serial Diya Aur Bati Hum on Star Plus, is finally moving on. After being associated with the prime time serial for over four years, Rashmi's decision to quit is not sudden and is in mutual agreement with the organizers of the show. The episode showing her exit from the show aired recently. The actress plans to utilize this break to connect with her long lost passion of writing and painting until she resumes a busy shooting schedule for another show.
Siddharth Shukla's character dies in Balika Vadhu
Actor Siddharth Shukla, who made a mark in the world of television through his portrayal of the quintessential gentleman as Shiv the husband of the protagonist Anandi, is all set to quit the show. Though Siddharth entered the house a little late, he was able to impress viewers with his role as an honest collector and an equally supportive husband. Recently, the actor has become busy with his film shootings and therefore expressed a desire to quit the show. The makers agreed and have shot a sequence giving Shiv a martyr's death in the show soon.