Design one stitch at a time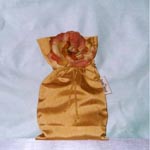 How do you make a gift standout before it's even opened? Dress it in a wrap from Sunisha Designs. Based in Jacksonville, FL. Sunisha Designs is a gift wrap provider launched by Manisha S. Joshi in October 2004. Her items have been showcased in the Florida Times Union, the Jacksonville Chamber of Commerce magazine, Access, Skirt! Magazine and she was recently named a "Designer on the Rise" by Stylebakery.com.
Manisha explains, "Creating art with my hands is a joy so different than that created with a machine. I loved spending my summer vacations sewing with my Mom and writing poetry that I could cherish for years to come. I still have the purses and eyeglass cases I made when I was twelve! My father traveled extensively on business and brought home unique jewelry and clothing, so I had wonderful exposure to international styles and trends."
"My first passion was fashion design as I used to take my sisters' hand-me-downs and recreate them into new styles. When my Dad would lose a shirt, he knew I was up to something! My mom has wonderful scrapbooks for everything – dining table settings, flower arrangements, home décor and even hairstyles. I was inspired to keep my own scrapbook of ideas and designs that I had hoped to create one day. Thankfully, that scrapbook grew into a marketing plan many years later and eventually a business."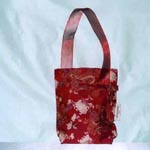 The creation of Sunisha Designs has allowed Manisha to explore her creative talents and introduce unique gift packaging and occasion cards to the otherwise exhaustive offering of mass-manufactured products. "I'm told often that I should find a factory in China or go the mass-market way to make more money, but that's not why I started this company. Some of the most beautiful items I own are handmade either by family or friends or from specialty shops. Sure, you can buy a cheaper wine bag at Pier 1, but there are also 200 other people buying that same wine bag in the same color with the same look. I'm all about uniqueness. We covet red carpet dresses and one-of-a-kind purchases because we live in a world where it's nice to stand out from the t-shirt and jeans crowd. You have to admit, when you go to a party, your eyes stray towards the unusual, the different and that's what I bring to gift wrap and cards."
Sunisha Designs' product line includes wine bags, gift bags, CD wraps and an array of occasion cards. Each item is hand stitched and handmade with no duplication. One wine bag can take up to three hours to complete. While no two products are alike, they are similar in the glamour and elegance that Manisha weaves into each piece. Some are adorned by roses and sequined embellishments, others are simply buttoned down. "When my husband watches me 'dress' my wine bottles, he always thinks I'm dressing a mannequin!" she laughs.
Another factor behind the launch of her company is recycling. "It has always shocked me as a child how much wrapping paper, tissue paper and ribbon is wasted when gifts are given. I would watch in awe as huge piles of beautiful Christmas wrap would just be thrown away after the gifts were opened. The beauty behind my products is they can be used many times over and be passed down to kids, grandkids and friends alike. There's no tape, glue or scissors required. So in addition to presenting a gift with panache, you are also benefiting Mother Nature."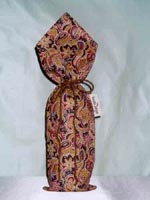 Personalized poetry is a hidden aspect of her business, but one that she admits engaging in regularly. "I've been asked many times by coworkers, friends and family to write a poem for their fiancée or husband or for a special event. When I put my business plan together, I knew that the right words truly compliment a gift and it was something that I could offer as a special touch." Her published books include, Poetic Thoughts and if yesterday was, tomorrow would be. Currently, she is completing a book of children's poetry.
When asked what the toughest part of the business is, Manisha revealed that balancing all the different aspects of administration, marketing, sales, website maintenance and production can often take a toll. "There are times when I have to take a creative vacation and delve into fashion and home magazines to revive my engines. Because my business is cyclical, the downtime allows me to boost production, while key holidays and local events change my focus onto marketing and sales. Thus, at any given moment, I have to be ready to change my hat! Home businesses are often misunderstood as an excuse to stay at home and watch soap operas, but there isn't a moment where I'm not thinking of the next sales opportunity or a new design for a gift bag. As a designer, an awareness of detail is eminent and simple everyday acts of life can be inspirational."
Although Sunisha Designs does not have a retail establishment, Manisha welcomes her customers to her studio at home. After chatting over a cup of coffee and something freshly baked, she leads them to her creative space which is brimming with fabrics, ribbons, embellishments, paints, papers and plenty of creative tools of the trade for her work. A customer can either choose from the inventory in stock or choose materials for the perfect custom wrap. Her designs are also found on the company's website which serves more as a sampling of her collections. "I would love to get every product online, but the sheer volume would mean clicking through many different products, so only a select number is placed online."
Manisha has designed gift and wine bags for weddings, birthday parties and special events. As a company, Sunisha Designs' also donates products towards many local charities and silent auctions. "When you give you always get two-fold back. I love knowing that someone has received one of our items at a charity or auction. I just wish I could meet them to ask what they think about our products. Customer feedback is very important in business and I have to keep my eyes and ears open to what pleases the senses."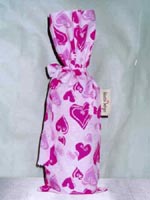 So what does this budding designer want everyone to know? "A gift is a gesture. It reflects the giver's character and depth of thought. Nothing is more repulsive than a crystal bowl re-gifted several times. When you receive something that is likened by you or is useful in your day-to-day life, you remember that person's gesture and happily await the time when you can return the same. But a gift with no thought or affection can taint a friendship forever. I want to envelope the right gifts in silks and flowers and romance. Paper bags stuffed with tissue are an old trend from the nineties and again, so wasteful. You can't rush quality and I hope that those who do choose their gifts wisely will wrap their gestures with thoughtfulness and beauty. As Fred Astaire who once said, 'Do it big, do it right and do it with style.'
Manisha Joshi's company can be found at www.sunishadesigns.com and she can be contacted at (904) 708-2656.