Editorial December 2020
Dear Readers,

It's that time when we end the year with a look at Indian weddings. While I know not too many weddings are happening these days, I have heard from our wedding professionals that we will have a very exciting 2021 ahead with a return to weddings and parties.

Three companies have announced their vaccine testing results and they look very promising. Hopefully by early 2021 those who want to take the vaccine will have the opportunity to do so. Until then, we must still be careful and follow local government and CDC guidelines.

Coming back to weddings, we are pleased to feature three very unique real wedding stories in this issue. As we have mentioned before, Indian Americans continue to embrace the idea of Destination Weddings – and it certainly shows as we have featured at least one destination wedding in every wedding issue. In the past, we featured weddings at popular venues in Cancún. In this issue, we feature a wedding hosted on Isla Mujeres, a Mexican island about eight miles off the coast from Cancún. Isla Mujeres is not well known in the wedding industry, but what we hear from our bride and groom Nafessa and Michael is that the venue they chose was very cooperative and eager to ensure their first Indian wedding went off without a hitch.

This issue also includes advice articles, including one from Neeta Singh, Ayurveda coach and Beauty Therapist, who combines ancient Ayurveda knowledge and modern trends in the article "Ayurveda Beauty Therapies for Glowing Skin." Our editorial staff has also put together two articles: "50 Best Bollywood Songs for Your Wedding Playlist" and "Fusion Mini Desserts to Add to Your Wedding Menu" for your quick reference.

The Desh-Videsh wedding issue is not complete without featuring some Bollywood weddings! Be sure to check out a couple of 2020 Bollywood weddings as well as a few we hope will happen in 2021.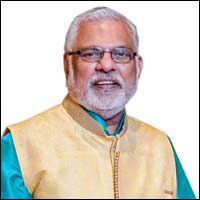 Next, I am pleased to announce two new books edited by yours truly. Both are geared for brides, grooms, and their families beginning the process of planning an Indian wedding. The first book Band, Baaja and Budget: The Ultimate Indian Wedding Planner with Ideas & Inspiration details each step of Indian weddings from planning to details related to rituals. The second book Real Indian Weddings in the US: Stylish Ideas from the Most Stunning Indian Weddings brings together a collection of real weddings and expert advice from brides themselves. If you or your loved one is planning a wedding, these two books are a must read for you.
Let me end my column by wishing everyone a Merry Christmas, and a Happy, and more importantly, Healthy New Year!
Raj Shah
Managing Editor
Indian weddings, wedding professionals
vaccine
CDC guidelines
local government
real wedding stories
Indian Americans
idea of Destination Weddings
featured weddings at popular venues in Cancún
wedding hosted on Isla Mujeres
Mexican island
Nafessa and Michael
Neeta Singh – Ayurveda coach and Beauty Therapist
Ayurveda Beauty Therapies for Glowing Skin
50 Best Bollywood Songs for Your Wedding Playlist
Fusion Mini Desserts to Add to Your Wedding Menu
Desh-Videsh wedding issue
Bollywood weddings
The Ultimate Indian Wedding Planner with Ideas & Inspiration
Real Indian Weddings in the US
Stylish Ideas from the Most Stunning Indian Weddings
Merry Christmas