Editorial February 2021
Dear Readers,
Let me start with some good news! COVID cases are declining and thanks to President Trump's warp speed vaccine development project we have two CDC approved vaccines in the US. We were administering close to one million vaccines per day in President Trump's last week in office, and we have started feeling sigh of relief.
Let me talk about another positive news. One proud moment for Indian Americans was when Kamala Harris, an Indian and Black American was sworn in as US Vice President, a heartbeat away to become the most powerful leader of the free world. On behalf of the entire Indian American community, Desh Videsh Media Group congratulates Vice President Harris and features her as the cover story in this issue.
A second equally proud moment, not only for only Indian Americans, but also for Indians worldwide, Indian PM Narendra Modi was ranked the most popular of world leaders by an American polling company.
In not so positive news, in early January, extremist Americans along with a few Americans who were driven by personal agendas, stormed the US Capitol building using violence. Similarly, a few Indians with personal agendas calling themself "Friends of Indian Farmers" stormed the Indian Capital in New Delhi on January 26, Indian Republican Day. To me, it seems like the "people with the personal agendas" are winning. IT MUST STOP.
Going back to some positive news. We are very proud to present a list of Indian Americans who have been nominated to fill key positions in President Biden's Administration. On a personal note, I would like to congratulate our own Dr. Vivek Murthy, raised in South Florida and whose parents still live here, on his nomination for US Surgeon General. 
But as a journalist and admirer of India's Prime Minister Modi, let me point out hypocrisy in this list of appointees. Two prominent Hindu Americans, Sonal Shah and Amit Jani have been excluded from this list. Sonal Shah, one of six Indian Americans who served on the Biden-Sanders "unity task force" and also an Obama administration staffer, and Amit Jani, who served in the Biden Campaign as a Director of  National Asian American and Pacific Islander. And the reason they have excluded is because they support PM Modi and his BJP Party.
Last month on January 30, we paid our respect to Gandhi ji on his punya tithi. This month, I would like to take this opportunity to pay my respect to Kasturba, Mahatma Gandhi's wife, on her 77th punya tithi which takes place February 22. Please read, "Kasturba Gandhi, the force behind Mahatma Gandhi" by Tanvi Dubey to learn more about Kasturba's influence on Gandhi ji. 
This issue also features this year's Padma and Pravasi Bharatiya Samman awardees from the United States. On behalf of the entire Indian American community, Desh Videsh Media Group congratulates these incredible individuals who have made us proud in elevating the Indian culture and heritage.
In keeping with the tradition to educate readers, two articles this month will help you navigate your financial goals. The first is "Five Simple Yet Smart Money Habits" by Supla Vora, an experienced financial planner, and the second is "Bitcoin- An Impressive Bullish Performance" By Amith Nirgunarthy, an experienced investment advisor.
In this issue, I am back with a "Words to Live By" column, which features verses from the Thirukkural, an ancient Hindu scripture. Be sure to check it out.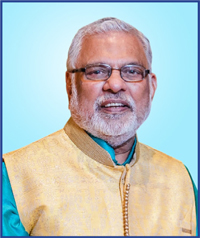 Before I close, let me announce some BIG news. With the COVID cases declining and the vaccine being distributed, we are finally seeing a light at the end of the tunnel. We have decided to host our first bridal show of 2021 at the Hilton Orlando on May 23, 2021. In 2020, not many Indian weddings took place, but we are seeing a record number of Indian weddings being planned for this year. If you are Indian wedding vendor, please reserve your booth by going to our web site www.myshadibridalexpo.com or send an email to info@deshvidesh.com. If you are a bride, groom or family, please register to attend at our website www.myshadibridalexpo.com.
Until then, be safe and be well!
Raj Shah
Managing Editor
Declining COVID Cases
President Trump
Indian American community
Desh Videsh Media Group
Vice President Harris
Indian PM Narendra Modi
Indian Republican Day
President Biden's Administration
US Surgeon General
Hindu Americans
Sonal Shah
Amit Jani