Dear Readers,
Happy 2019! The start of a new year is always bittersweet, as we reflect on last year's memories but eagerly anticipate new challenges in the year ahead.
Of course, every new year starts with a look at health and finances. Though not an exciting topic, managing your finances is something people of all ages should embrace. A well managed financial portfolio means less stress, giving you more time to enjoy activities and travel with friends and family.
In this issue, several of our community's finance experts offer tips and advice for financial strategy. Umang Thakkar and Payal Agarwal inform readers about ways to reduce your tax and increase savings. Rajesh Jyotishi provides information about avoiding the many tax scams and schemes that exist to con taxpayers. Ashish Kumar covers data related to planning and offers some advice for parents as they educate their kids about money and saving.
In thinking about ways to reset our health and wellness, contributor Saira Sultan offers readers 10 ways to approach detoxing your body. Children can also use the new year as a way to begin healthy habits, and contributor Chana Tailor explains why meditation is great mindful habit for children.
Last, but not least, we're excited to share our interview with Shoba Narayan, a Broadway actress. Shoba plays "Eliza Hamilton" in Hamilton, currently showing at the Broward Center for Performing Arts. Shoba is an incredible role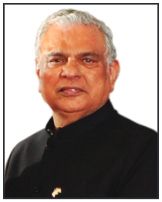 model for young Indian Americans looking to follow a career in the creative arts. Learn more about how she got her start in the interview, and try to catch a show if you're in South Florida!
Finally, we're thrilled to start 2019 by announcing the first of this year's MyShadi Bridal Expos. For anyone planning a wedding or even a special event such as an anniversary or graduation party, the MyShadi Bridal Expo offers attendees a chance to meet with a wide range of vendors all in one afternoon. Join us in Atlanta on March 10 at the Renaissance Atlanta Waverly Hotel, in Raleigh on March 31 at the Marriott Crabtree Valley, and Orlando on April 28 at the Hilton Orlando. Register to attend this free show online at myshadibridalexpo.com.
Here's to a productive, memorable, and Happy New Year ahead!
Raj Shah
Managing Editor
Posted on: 1-1-2019 by: Deshvidesh