Editorial January 2020
Let me start this column by wishing everybody a happy, healthy and prosperous New Year. I cannot believe it is already 2020!

This issue features three financial planning articles from different experts in the industry. They range from college planning for your kids to insuring your life and your valuables. We welcome your feedback because we are planning to make a financial planning article a regular column in each issue.

After receiving requests from several readers about including more articles about travel to India, we are including one article "Journey to India." Recently one of our vendors and very good friend, Teresa Berstein, Director of Catering at the Hilton Orlando, went to India with her friend Carolyn Bankston. So the unique thing about this article is that it is written by Carolyn Bankston, an American who loves travelling. Read the article and get a unique look at India from non-Indian eyes.

Now let us discuss Indian politics. The Ram Temple in Ayodhya is an ongoing issue in India for over 500 years. It took the highest court of India to resolve the problem. The Congress Party, also known as India's grand old party, kept the issue burning only for political gain, and they kept using Muslims living in India as a vote bank. In the article "Ayodhya Verdict: Present Perfect, Future Bright," author Kanchan Gupta points out that India's first Prime Minister Nehru did so for a long time and the same technique was used by his grandson and Prime Minister Rajv Gandhi, playing party politics and keeping vote bank in front of them over India's progress.

In this issue, we also feature a book review of The Battle for Rama by Dr. Meenakshi Jain. We have done the review in detail becuase the book documents the statements made by Muslim shcolars as well as non Indian scholars. The book covers in detail the report created by the Archaeological Survey of India (ASI) department. When the Supreme Court of India made a historical  and unanimous decision in favor of the Hindu community, five judges of court gave a lot of importance to the ASI report.

But as I admire Prime Minister Modi ji and the BJP party, one thing I strongly disagree with is how they are promoting Savarkar, the most controversial person in history for the Bharat Ratna award. Similarly I cannot understand how Pragya Thakur, one of the BJP elected Members of Parliament is still in the BJP party after declaring Nathruram Godse, killer of Gandhi ji as a "National Hero." Yes, the Prime Minister has made statements against her, but not strong enough and no other BJP leaders have said anything against her.

Keeping the Savarkar issue aside, I would like to commend the Modi ji government because now it can claim that two of the three issues that formed BJP's core agenda have been settled with the abrogation of Article 370 and the Ayodhya verdict. The third, Uniform Civil Code, is a work in progress.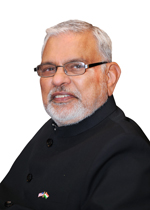 Leaving politics aside, please check out the article by Chahna Tailor "New Year, SMART You!" Be inspired to make changes in the New Year.
Let me close this column by reminding all of you that our next two MyShadi Bridal Expos are approaching soon – one in Raleigh on March 29 and the other in Orlando on April 5. See you there!
Raj Shah
Managing Editor
dr. meenakshi jain
future bright
congress party
parliament
kanchan gupta
bjp leaders
present perfect
several readers
catering
core agenda
regular column
prime minister rajv gandhi
rama
prime minister modi ji
american loves
unanimous decision
carolyn bankston
same technique
muslim shcolars
asi report
party politics
vote bank
savarkar issue
prime minister nehru
savarkar
gandhi
chahna tailor
most controversial
myshadi bridal expos
raleigh
different experts
hindu community
orlando
uniform civil code
supreme court
national hero
ayodhya
ayodhya verdict
financial planning article
modi
very good
asi
bharat ratna
college planning
indian eyes
muslims
nathruram godse
long time
editor
journey
bjp
teresa berstein
unique thing
march
unique look
financial planning articles
more articles
ongoing issue
india
ram temple
book review
detail becuase
pragya thakur
prime minister
battle
smart
indian scholars
hilton orlando
new year
archaeological survey
indian politics
bjp party
political gain
highest court
editorial