Editorial
Dear Readers,
Scientist and former Indian President A.P.J. Abdul Kalam once said, "Learning gives creativity, creativity leads to thinking, thinking provides knowledge, and knowledge makes you great." It is truly our pleasure to showcase such great Indian American kids who have, once again showed the entire world their creativity and knowledge by winning in variety of fields. These remarkable kids have shown their hard work and perseverance from the Scripps National Spelling Bee competition and National Geography Bee competition to poetry competitions. Similarly, this year the list of Valedictorians/Salutatorians has become larger than ever before. It seems like in a very short time, we will need a special edition of Desh-Videsh just to list all the Indian Americans who have become Valedictorians/Salutatorians at their respective high schools.
As we have seen for the last few years on social media and in blog comments demonizing these hardworking Indian American kids, and this year was no different. But one thing I noticed this year that was different than previous years is that most mainstream media including CNN and The Washington Post avoided using the word Indian-American in their headline.
It was very amusing to read some of the comments on The Washington Post like, "Where are all the American kids?" Or blaming our school system, it was also very refreshing to read one blogger comment, "The spelling bee is not all about memorization. There's critical thinking involved. There's endurance. There is patience. And there is grit and determination. All are essential attributes to success in life." Colin Powell, Former Chairman of the Joint Chiefs of Staff and former Secretary of State said the same thing a bit differently, "A dream does not become reality through magic; it takes sweat, determination and hard work."
And speaking of sweat, determination and hard work, don't miss the article about 16-year-old Indian American Nimrit Doad, who is Founder of Skin Care Plush. What a remarkable story! Another remarkable thing about this article is that it is written by Amara, a 17-year-old who has already graduated from both high school and college with dual enrollment.
To show the creative thinking side of our kids, this year in our Education special we have added one new section, poetry. Keshav Shah, 8th grader; Aarohi Talati, 10th grader; and Faren Rajkumar, college student, have expressed their feelings and ideas by the use of distinctive style and rhythm through poetry.
Year after year and issue after issue, reading articles about successful Indian American kids, you start wondering why education pundits, school board members, and other parents do not understand the simple facts behind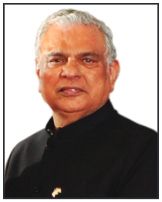 student success. Among several factors that attribute success to the child, education and parent involvement are at the top of the list. This issue's article, "How to Raise a Genius" discusses this and some of the other factors.
Let me close this column by inviting you all to join us at our two upcoming MyShadi Bridal Expos, one in Fort Lauderdale on August 12 at the Bonaventure Resort & Spa, and the other in Orlando on September 16 at the Hilton Orlando.
See you there!
Raj Shah
Managing Editor