Editorial
Dear Readers,
A medley of vibrant colors, slew of events, Band-Baaja-baraat and bollywood style naach gaana, nothing quite compares to the rich spectacle of an Indian wedding. It is that time of the year, when wedding season is just around the corner. That means our summer wedding resource issue is right on time!
Congratulations to all our newlywed couples, top notch vendors, dedicated clients and industry insiders on a winning wedding season. We are genuinely honored to celebrate you in this issue. And for newly engaged couples, we hope your big day is filled with lots of love and laughter and we wish you a lifetime of happiness.
Our most exciting section in this issue features real weddings of nine brides and grooms, each talking about her or his special day, and all that went into creating moments to build cherished memories. Readers, you will love how our Real Weddings capture the range of emotions at weddings on camera. Our team has assembled an astounding issue filled to the brim with inspiration from real weddings across the Southeast US.
On a personal note, we're so excited to feature the wedding of Rosanna and Chris in this issue. You have no doubt seen Rosanna's pictures in Desh-Videsh each time we cover our MyShadi Bridal Expos. She has been modeling in our fashion show for the past 10 years, and many times, she is the bride/showstopper in the show. This time around, you will see her pictures as an actual bride at her own wedding!
Whether you are the bride yourself, gearing up to attend a friend's wedding or feeling confused about what to wear at your colleague's wedding, this issue will be your ultimate guide. We know how despite all the glam associated with weddings, planning one from scratch can be a daunting task. With a long list of things to do, it can be hard to keep track. Fear not, our Wedding Resource Guide will help you. From references for candid wedding photography, to the venue and decor, invites, cake, entertainment, rituals and more, with this Wedding Resource Guide, you will not need to look anywhere else.
If you're thinking of planning a destination wedding, you've come to the right place! Destination weddings have become extremely popular over the past 10 years, and it's no wonder. Gathering all your family and friends in a fabulous location for your special day is appealing for so many reasons. We are excited to present destination wedding planning tips from industry veteran and Destination Wedding planning expert, Nirjary Desai, who herself had a destination wedding in Mexico!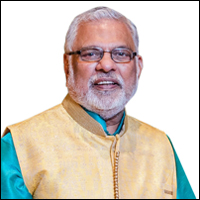 Our wedding issue is not complete without announcements of our upcoming MyShadi Bridal Expos! Please mark your calendars for Charlotte on August 4, Fort Lauderdale on August 25, and our flagship Expo in Orlando on September 15!
See you there!
Raj Shah
Managing Editor
Posted on: 05-31-2019 by: Deshvidesh