Editorial March 2019
Dear Readers,
Recently, I was listening to a lecture by one of my favorite Gujarati writers and motivational speaker, Kajal Oza Vaidya, about marriage and relationships. One interesting point she discussed was about the seven vows the bride and groom take the wedding ceremony. She pointed out that during the wedding so many other activities are going on so most guests do not hear the bride and groom take these sacred vows. She added that the way some Panditjis recite these vows make them hard to understand even for the bride and groom! Last, but most important, for brides and grooms who do listen to these vows, how many of them remember them and practice them?
Per the Vedic scriptures Rigveda, friendship between a man and a woman develops after walking seven steps together. I strongly believe that every couple should not only chant the vows, but must also strongly believe them and try to follow the promises made in their married life. It is only then they will witness love, affection, trust and prosperity growing among themselves in leaps and bounds. In present day circumstances, where one often finds that love, trust and patience is gradually fading away between married couples, the vows taken during Saptapadi will help them to remain steady and eliminate any shreds of misunderstanding or differences that grow among couples.
Pardon me for going on so long on this topic! As you know from earlier columns, when I start discussing a subject I am passionate about, I can not stop myself!
This wedding resource special issue brings readers new real wedding stories. We hope these serve as inspiration for those who are planning their weddings. With customized, personal touches to stunning decor, these stories are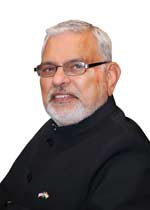 sure to give you the fuel you need to continue planning. In reading the real wedding stories, you can see that all the time and effort that goes into planning really is worth it in the end!
Last but not least, we are excited for the first MyShadi Bridal Expos of the year! Our first will be in Atlanta on March 10 from noon – 5 pm at the Renaissance Atlanta Waverly Hotel. Our next will be in Raleigh on March 31 at the Raleigh Marriott Crabtree Valley. Our final show for the spring will be in Orlando at the Hilton Orlando on April 28. Join us to meet with event planning vendors and see the latest South Asian wedding trends in person. Register to attend online at myshadibridalexpo.com – admission and parking are both free! We hope to see all you newly engaged couples there!
Raj Shah
Managing Editor
Gujarati writers
motivational speaker
Kajal Oza Vaidya
Panditji
Vedic scriptures Rigveda
Saptapadi
vows
real wedding stories
MyShadi Bridal Expos
the Renaissance Atlanta Waverly Hotel
Hilton Orlando
South Asian wedding