Editorial March 2020
Dear Readers,

Once again, it is a very exciting time since the wedding season is upon us. Aruna and I just came back from India where we attended three weddings in one week, each with two to three events. It was very exhausting, but also very exciting! We saw new trends in Indian weddings, unique food items and new styles in clothing. As some of you know, I love Garba! One of the weddings we attended was in Baroda, the town where new steps of garba begin, so I was also able to learn some new steps!

Enough about me, let me extend congratulations to all the newlyweds out there. You have all no doubt some very exciting and hectic few months. Some of you returned from your honeymoon and are trying to get back to a routine life. I am sure your parents, in-laws, uncles, aunties and friends who have been married for a few years must giving you plent of Do's and Don'ts for married life. So let me give you my two cents worth, coming from Hindu Scriptures.

Marriage transforms one's entire life-style and creates a whole new realm of duties, obligations, privileges and joys. Firstly it is important to bear in mind that a Hindu marriage is not merely a particular contractile arrangement between two consenting adults. It is the union of two entire families and many of the rites in the wedding ceremony stress this important fact.

Shatpadi Stotra

Next, I congratulate all those newly-engaged couples out there! It is our pleasure to bring you another edition of the Desh-Videsh Wedding resource special. This issue includes real wedding stories that will inspire your wedding planning. Be sure to check out the articles on Mehndi traditions and Islamic wedding rituals for more detailed information on the subjects.

Our young and talented writer Chahna Tailor shares in her article "Yoga & Ayurveda" about the body and mind. She shares, "Ayurveda, the medicinal science,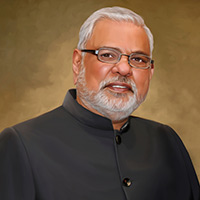 helps us to cleanse our body and mind through our dinacharya (daily routine), ratricharya (night routine), and ritucharya (seasonal routine)."  This is very very important for men and women who are getting married to learn. Rather than doing a crash diet or going to an expensive spa, which may work only on a temporary basis, using our Ancient hindu techniques will be much more beneficial.
Now let me close my column by reminding all of you about our two upcoming MyShadi Bridal Expos, in Raleigh and the other in Orlando. See you there!
Raj Shah
Managing Editor
wedding season
new trends in Indian weddings
unique food items
new styles in clothing
Garba, Baroda
new steps of garba
newlyweds
honeymoon
married life
Hindu Scriptures
life-style
Hindu marriage
wedding ceremony stress
newly-engaged couples
Desh-Videsh Wedding resource special
wedding stories
wedding planning
articles on Mehndi traditions
Islamic wedding rituals
Chahna Tailor
Yoga & Ayurveda
Ayurveda, the medicinal science
dinacharya, daily routine
ratricharya
night routine
ritucharya
seasonal routine
spa
Ancient hindu techniques
MyShadi Bridal Expos in Raleigh
MyShadi Bridal Expos in Orlando