Editorial November 2021
Dear Readers
On behalf of the entire team of the Desh-Videsh Media Group, let me wish all our readers, supporters, advertisers, and well-wishers a 'Happy and Healthy Diwali!' May this festival of lights bring you and your family bright days ahead. To my Gujarati readers, I wish you and your family a healthy and happy New Year.
Given what all of us have gone through over the last two years with the  COVID pandemic, let us pray to the Almighty that 2022 will bring us happiness. It would be appropriate to mention the Shanti Mantra from the Brihadaranyaka Upanishad. The Sarvesham Svastir Bhavatu ( ॐ सर्वेषां स्वस्तिर्भवतु । ) mantra is a divine chant for peace, compassion, and prosperity across the universe.
The meaning of the mantra in English goes like this:
 May there be happiness in all
May there be peace in all
May there be completeness in all
​May there be success in all
Om – peace; peace; peace.
Through this mantra, we seek to connect with the community of our humanity and seek well-being for all (be it a person, an animal, or a plant). This feeling of infinite empathy and kindness is what makes this mantra perfect for empathy for the world. By practicing goodwill and righteous acts, and by using mantras like this to keep these ideas in our hearts and minds, we reduce the suffering of the world – and thus, of ourselves.
Now let me talk about the articles we are covering in this issue. We are covering success stories of Indian Americans. Let's start with our cover story,  Shree Saini, the first Indian American to become Miss World America. She is not only beautiful and smart, but she is also a fighter. From her childhood to now, she has fought through difficulties and come out on the other side a winner.  We are also very proud to cover the top 5 Indian American Women who made it to the Forbes' List of America's Richest Self-Made Women. It is also very momentous to report about three Indian Americans honored in the Forbes list of the Most Influential Chief Marketing Officers.
Sometime back, President Joe Biden – while talking to Dr. Swati Mohan who skillfully landed the spacecraft rover that landed on Mars – said that Indian Americans are 'taking over the country'. Several media outlets and anti-Indian groups  were upset about this comment. But everybody knew that President Biden didn't mean literally 'taking over the country'. He was indicating his belief that Indian Americans make great contributions to the fabric of society – whether in science, education, the government, business, a beauty pageant, or a spelling bee competition. To put it another way, we can imagine Mother India – proudly celebrating the successes of her beloved sons and daughters – letting everyone know her children are taking the world by storm!
Now let me talk about an article which covers two of my most favorite subjects: Indian Prime Minister Narendra Modi ji and the Bhagavad Gita. The article includes the speech given by PM Modi when he launched the Kindle version of Swami Chidbhavanandaji's Bhagavad Gita. In his speech, PM Modi ji emphasizes that the Gita makes us think, inspires us to question, encourages debate, and keeps our mind open to new ideas.
Some of you may have received emails from the Desh-Videsh Media Group about our webinars and video interviews, where I am talking to community members about Hinduism and the Bhagavad Gita. The first video interview in this series was with my good friend Samir Desai, whom I consider to be a management guru. He talks about the Bhagavad Gita in his management lectures. Samir has also written an article in this issue titled 'Life is a Sport … Drink it Up.' Please make sure you read this article and apply some of its principles in your corporate life.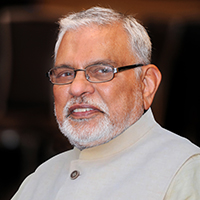 If you've missed the email about our video interviews, please go to our website:
Let me end my column by wishing all of you again a happy, healthy, and prosperous New Year!
Raj Shah
Managing Editor
Desh-Videsh Media Group
Happy and Healthy Diwali
Gujarati readers
COVID pandemic
Shanti Mantra
Brihadaranyaka Upanishad
Sarvesham Svastir Bhavatu, Shree Saini
success stories of Indian Americans
Miss World America
5 Indian American Women
List of America's Richest Self-Made Women
Dr. Swati Mohan
Mother India
Indian Prime Minister Narendra Modi ji
Bhagavad Gita
Chidbhavanandaji's Bhagavad Gita
Samir Desai