Editorial October 2021
Dear Readers
The month of October is the beginning of the Hindu festival cycle. But this year, for Hindus living in Florida, it is a time for double celebration: Last Month, Honorable Florida Governor Ron DeSantis announced October as Hindu Heritage Month! It is my great pleasure to bring you the October issue of Desh-Videsh with a special feature on 'Celebrating Hindu Heritage Month.' I know you must be thinking, 'Here he goes again.' Well, you know me too well. Yes, I am really excited about this month's issue of Desh-Videsh. If you recall, in my last month's column, I listed several items over which I get excited – and of course, talking about Hinduism is one of them. So, in this month's issue, we have several articles which talk about various aspects of Hinduism.
 First, let me talk about an article, 'Diwali – Celebrating the triumph of good over evil.' There are so many articles written on Diwali that talk about the victory of the good. So, what is different about this article? In this article, we are presenting a Western view by a lecturer in philosophy at Texas State University, Dr. Natasha Mikles. I hope you find it interesting.
Next, let me talk about the article on 'Celebrating Hindu Heritage Month'. When I received an email from the governor's office about declaring October as Hindu Heritage Month, I posted this good news on some of the social media. It was very interesting to find that the first few comments I got were from Hindus (something I'm inferring from their first and last names), and their comments labeled this good news as 'fake news.' Then, I posted the actual email from the governor's office, including the name of the person from the governor's office who had sent me the email. Why am I telling you this? I don't want to be negative about my own people, but I have noticed that far too often, when there is good news, our own people doubt it or want to keep silent about it – but when there is bad news, they seem to be the first to spread it all over social media. In the past, we have covered topics such as Article 370 of the Indian constitution and Citizenship Amendment Act (CAA). We received several calls and emails telling us that we were wrong to cover such articles. But we didn't receive a single call or email telling us, 'Good article – keep it up!' Why is that? Why can we not celebrate our successes together or fight bad news together?

I remember somebody telling me that the only time four Hindus will go in one direction is when they are taking the fifth Hindu to a funeral house. What a pity! But to my surprise, recently, I did find one exception. I am sure most of you must have heard about the so-called academic conference on Dismantling Global Hindutva that happened on 9/11 weekend. A few Anti-Hindu, Anti-Modi, Anti-BJP, and Anti-RSS people got together and tried blaming Hindus and the PM Modi government for everything wrong that has happened in India over the last 5,000+ years. But the conference failed miserably. Even the panel speakers did not agree with each other. Please read a detailed report by Gargi Shanbhag in her article, 'Dismantling Global Hindumisia with Hindutva.'
Here's some good news: Originally, a promotional poster for the aforementioned conference had smugly boasted that it would be 'cosponsored by 45+ centers or departments at 40+ universities.' In response, under the leadership of the Hindu American Foundation (HAF), over 950,000 emails were sent to university chairpersons, chancellors, and department heads. The result was good – very good. All the university heads ordered the conference organizers to remove their university logos. When the conference was announced, there had been about 40 university logos on the website. Within a few days, all the logos disappeared. Well done, HAF! Well done, Hindus! 
Let me end my column by talking about a critically important article, 'How to Cultivate Hindu Culture in America' by Stephen Knapp, also known as Sri Nandanandana Dasa. It is a timely article. Let me assure you that this is not the last time we will hear about conferences like Dismantling Global Hindutva or other Anti-Hindu movements like 'Dot (Bindi) Busters'. So, we want to ensure that all Hindus – and especially our children – know about our Hindu religion and culture. So, I urge every Hindu parent to go through this article and try following a few key points that are listed in this and the other articles.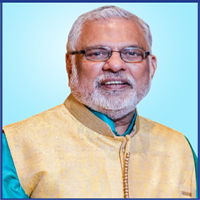 Until next time, be safe and be well!
Raj Shah
Managing Editor
United States
Covid-19
Hindu Heritage Month
Florida Governor Ron DeSantis
Diwali – Celebrating the triumph of good over evil
Citizenship Amendment Act
Hindu American Foundation
How to Cultivate Hindu Culture in America
Stephen Knapp
Sri Nandanandana Dasa
Global Hindutva