Emirates Cricket Board announce team to represent the UAE in ICC Men's Cricket World Cup League 2 – Series Three
The Emirates Cricket Board have announced a 14-member squad to face USA and Scotland for the ICC Men's Cricket World Cup League 2 tri-series.
UAE will host USA and Scotland in the six-match tri-series at Sharjah Cricket Stadium and ICC Academy, Dubai –
Matches commence Sunday December 8th and conclude Sunday December 15th
All matches will be Live Streamed on Emirates Cricket's YouTube channel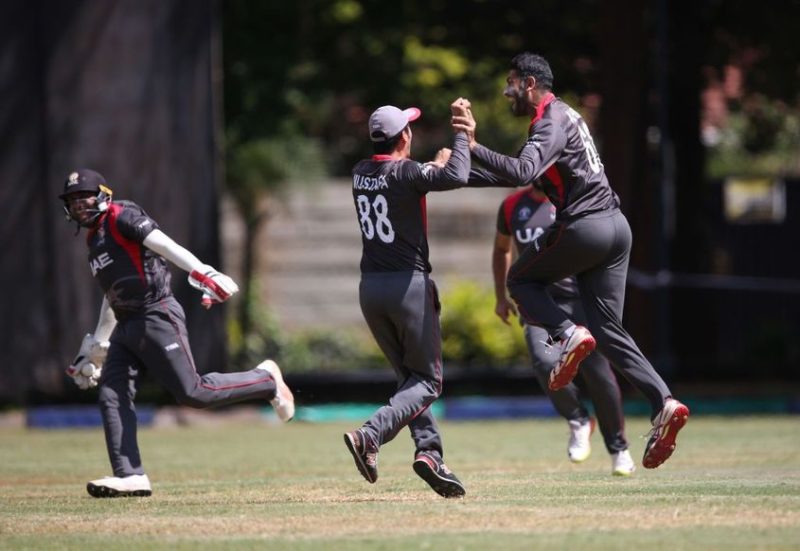 Emirates Cricket Board, hosts of the third series in ICC Men's Cricket World Cup League 2, has today confirmed the team that will represent the UAE to compete against the USA and Scotland in the WCL2 six-match tri-series.
His Excellency Dr. Tayeb Al Kamali, Emirates Cricket Selection Committee Chairman and Board Member said; "Emirates Cricket is honoured to host the third series of the ICC Men's Cricket World Cup League 2. We look forward to welcoming teams from the USA and Scotland, and to what we envisage will be highly entertaining, competitive matches."
With teams two steps away from India 2023 and qualification to the Men's Cricket World Cup Qualifier 2022 for the top three teams in League 2 there is a great deal at stake in this series. Not only will teams be fighting for points in the League 2 table, but UAE will also use the series to look to improve their position on the MRF Tyres ICC Men's ODI Team Rankings table.
Commencing Sunday, December 8th, UAE open their four-match campaign against the USA at Sharjah Cricket Stadium. The second, of the UAE's four matches, will be played on Wednesday, December 11th against Scotland (Sharjah Cricket Stadium). UAE then move to ICC Academy (Dubai) where they again face the USA on Thursday, December 12th and Scotland on Sunday, December 15th for their final match in the series. All matches commence at 10:00 (UAE time) and will be Live Streamed on Emirates Cricket's YouTube Channel.
Speaking on the UAE team Dr. Al Kamali stated: "Each player selected for the Senior Men's team to compete in the series has undergone a thorough, and stringent assessment of both their skills and attitude." "We are confident that each player selected will embrace this opportunity with integrity and passion, and we look forward to watching their progress and team-cohesiveness during this series.
The team selected to represent the UAE, under the captaincy of Ahmed Raza, is;
Squad: Ahmed Raza (c), Rohan Mustafa, Jonathan Figy, CP Rizwan, Junaid Siddique, Muhammad Usman, Basil Hameed, Zawar Farid, Vriitya Aravind (WK), Waheed Ahmed, Karthik Meiyappan, Zahoor Khan, Darius D'Silva and Chirag Suri.
Fixtures:
8 December: UAE v USA (Sharjah Cricket Stadium)
9 December: USA v Scotland (Sharjah Cricket Stadium)
11 December: UAE v Scotland (Sharjah Cricket Stadium)
12 December: UAE v USA (ICC Academy Oval 1)
14 December: USA v Scotland (ICC Academy Oval 1)
15 December: UAE v Scotland (ICC Academy Oval 1)
Emirates Cricket Board,,,,,
ICC Academy
Dubai
Emirates Cricket Selection Committee Chairman
Dr. Tayeb Al Kamali
ICC Men's Cricket World Cup League 2