Esha Kansara and Siddharth Amit Bhavsar's Engagement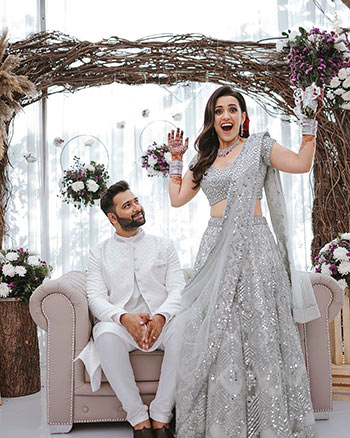 Noted Gujarati cinema and TV actor Esha Kansara got engaged to her boyfriend Siddharth Amit Bhavsar, announcing it to be a lifetime collaboration between the two of them. Both of them were overjoyed and emotional at the gorgeous and glittering ceremony; and (so romantically!) both knelt to exchange rings. Esha said the two of them were enthu-cutlet, meaning 'over-excited'. This was why they chose to hold an engagement ceremony as gorgeous as a marriage. The venue was beautifully decorated; and the family and friends of the duo showered them with flowers and blessings.
Both being great admirers of Indian culture and tradition, both were dressed beautifully in Indian attire. Esha looked beautiful in a shimmering silver lehenga, and Siddharth looked dashing in a white sherwani. Both of them shared pictures of their engagement, on their social media handles. The pictures depicted the intense feelings of the couple for each other. A video was posted with the hit song 'Mast Magan' in the background rendered by the groom himself. Pictures of both families were also posted. Esha confessed that she fell in love with Siddharth's family before she fell for him. However, they have announced no marriage date as of yet.
Esha has featured in TV shows like Ek Nanad Ki Khushiyon Ki Chaabi…Meri Bhabhi, Mukti Bandhan, Zindagi Mere Ghar Aana, and My Name Ijj Lakhan. Her film career began in 2017 with Duniyadari, and she has also acted in the films Mijaaj and Midnights with Menka. Siddharth has composed songs like 'Insaaf' and 'Ishq Tanha'. He has also composed the music for films Jai Mummy Di and Motichoor Chaknachoor along with Gujarati films.
Esha Kansara
Siddharth Amit Bhavsar
engagement
enthu-cutlet
Gujarati cinema
musician