Fashion Guide: How to Perfectly Coordinate the Bride & Groom Wedding Dress
Fashion Guide: How to Perfectly Coordinate the Bride & Groom Wedding Dress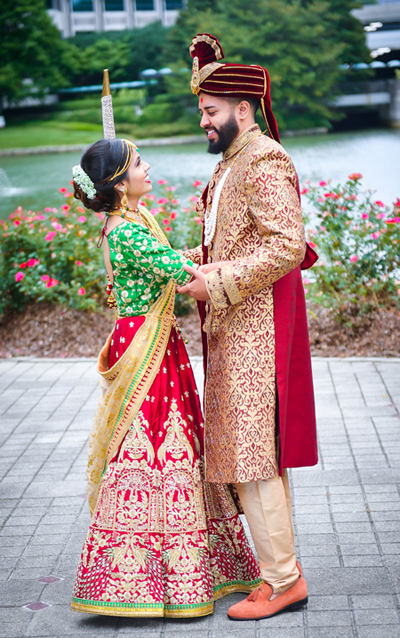 For some couples, the idea of coordinated outfits can be taken seriously to mean wearing the exact same color clothing. However, there are many tasteful and chic ways in which a couple can coordinate their wedding look.
Here are five smart ways the bride and the groom can complement each other in perfectly coordinated outfits.
1. Same Color But Different Hue
If you both want to wear the same color, then go for different shades. If the bride is going for a bright red outfit, then the groom can go for a dark red or maroon shade.
2. Contrasting Colors
Wearing the same color is not the only way to look coordinated. After all, opposites attract! Pick contrasting colors that go hand-in-hand, like blue and red, green and yellow, pink and blue, purple and green, etc.
3. Multi-colored Riot
If the bride chooses to wear a multi-colored outfit, the groom can pick one of the colors from it to complete his look. If the bride's dress includes three distinct colors, the groom could pick the color that is least visible for his outfit.
4. Minimalistic Matching
If you don't want to look too "matched" at your wedding, then consider using similar colors for accessories. The groom may choose to use the bride's outfit color for his pocket-square, safa/dupatta or pagdi.
5. Match The Fabric
Just matching the colors is not the only way to look coordinated; you can even go for wedding attires in the same outfit. If you have a winter wedding, go for fabrics like Velvet or Silk that not only stand out but also have a good sheen. For a summer wedding, you can choose tulle or silk-organza.
You are made for each other; so let your wedding outfits show the same as well!
Posted on: 12-4-2018 by: Deshvidesh