First Vice President and Chief Operating Officer at the Federal Reserve Bank of New York, Sushmita Shukla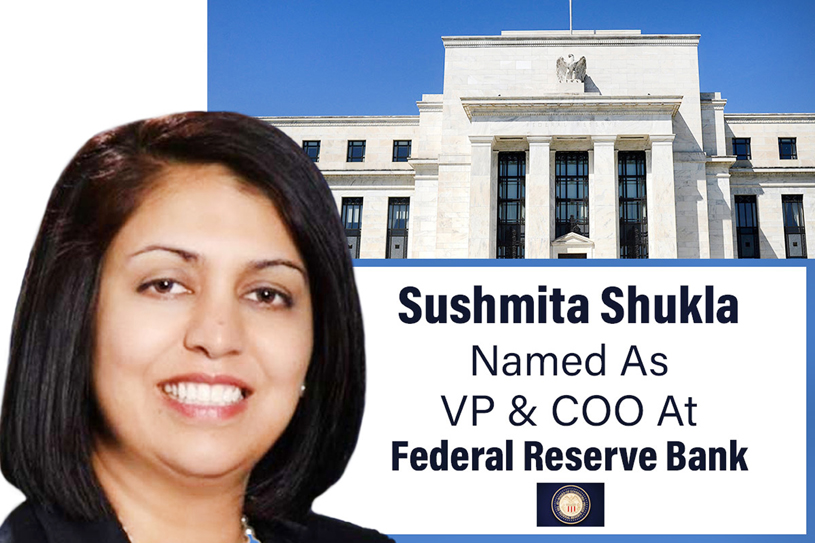 First Vice President and Chief Operating Officer at the Federal Reserve Bank of New York, Sushmita Shukla, an insurance sector veteran of Indian descent, is now the second-ranking official at the prestigious organization. The Federal Reserve System's Board of Governors gave its blessing to the nomination, the New York Fed announced in a statement on Thursday. The Federal Reserve Bank of New York's Board of Directors has nominated Shukla, 54, as first vice president and chief operating officer, beginning in March 2023.
Shukla, who holds a bachelor's in electrical engineering from the University of Mumbai and an MBA from New York University, will serve as the New York Fed's first vice president. In the statement, Shukla expressed her gratitude for the chance to work for a company with such a noble objective as the New York Fed. "I look forward to using everything I've learned over my career, including my technology, operations, and risk-focused experiences, to advance the key initiatives and support the committed leadership of this important institution," the author says.
Shukla has substantial experience leading large-scale organizations and transformation programs, according to John Williams, president and chief executive officer of the New York Fed. Williams called Shukla a creative, inspirational, and highly effective leader who brings this expertise to the Bank. Shukla, according to him, "has a thorough understanding of technology, is passionate about fostering a truly diverse and inclusive workplace, and is skilled at agile innovation approaches." According to the announcement, Shukla will work with the Bank's president and chief executive officer to define, convey, and carry out the organization's strategic direction. Shukla will also represent the Bank as an alternate voting member of the Federal Open Market Committee.
Rosa Gil, the founder, president, and chief executive officer of Comunilife and chair of the New York Fed Board of Directors, stated that Shukla has "deep expertise and leadership acumen" that will benefit the Bank in fulfilling its goal and strategic objectives. Shukla has held leadership positions in the insurance industry for close to 20 years, according to her profile on the New York Fed website. She also has extensive experience leading significant enterprise transformation initiatives, in-depth knowledge of technology, and expertise in Agile innovation techniques.
Shukla, a resident of Connecticut, most recently served as Chubb's Senior Vice President and Chief Operations Officer for International Accident & Health, where she oversaw operations, claims technology, and strategic initiatives for the company's international accident and health business in 51 nations. According to the profile, she improved customer service and the overall customer experience while driving operational efficiencies. At Healthfirst, where she began as Vice President of Enterprise Business Solutions in 2016 and later served as interim Senior Vice President of Enterprise Transformation in 2017, Shukla previously oversaw a company-wide transformation effort.
Shukla has also worked with Liberty Mutual, Merrill Lynch, and GiantBear Inc., a New York-based provider of cellular technology and application services. The Federal Reserve System is made up of the Board of Governors in Washington, DC, the Federal Reserve Bank of New York, and 12 regional Reserve Banks.