Five Must-Haves at an Indian American Wedding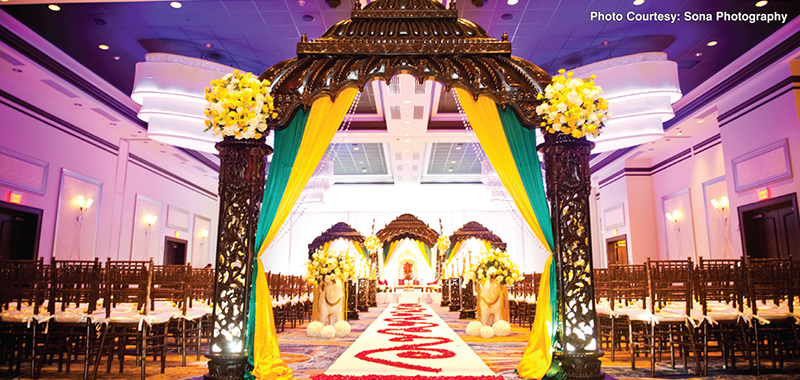 Hosting an Indian American wedding and not sure how to "Indianize" it? Fret not!
Read on to know the five must-haves that will make your's an authentic one.
By Taniya Talukdar
Indian weddings are grand and memorable, so even someone who hasn't attended an authentic one might have a fair idea about it. But if you were having too much fun, and overwhelmed by the opulence, we've got you covered to make your guestsfeel they are in India for a wedding. Here's a list:

---

1. Color me bright:

The first thing that strikes you when you think of an Indian wedding, is the vibrancy. It's a riot of colors. From the wedding outfit of the bride to the flowers used in decoration to the fabric used to do up the wedding mandap, they're all rich in color. No Indian wedding is complete without a burst of colors. So, when you're hosting your wedding, make sure that you include a lot of bright shades.

2. Food, food and more food:

Indians and food go hand in hand. Let's be honest, we Indians are very careful what we put in our plate and the same applies to our weddings. While there's a lavish spread of Indian food at all weddings that include the usual chicken tikka masala, samosas, chats and so on, make sure that you have a healthy spread for the non-Indian crowd who may not be so adventurous. We wouldn't want anyone leaving with empty stomach from the party, do we?

---

3. Mehendi:

This one's is specially for the ladies. A bride's makeup remains incomplete without mehendi in her palms. There are a lot of talented mehendi artists out there in America now whom you can hire for the event. Or, if you can afford, then fly someone from India for the wedding and host a mehendi party ahead of D-Day.

---

4. Sangeet:

An Indian American wedding will remain incomplete if there is no dose of Bollywood (Hindi film) music in it and that is what sangeets (musical evenings) are for! Though essentially a Punjabi wedding special, sangeets have now become a must for all indian weddings in America. And why not? Everyone loves to shake a leg or two to those chartbusters.

---

5. Handcrafted return gifts:

Yes, this is one of the most important elements of an Indian American wedding since the guests look forward to taking back a little piece of India with them. Source some great handcrafted gifts, the most popular being the Ganesh idol, from India and keep them ready for the guests. This way, you'll make the guests happy as well as help a poor artisan to earn a living – your good deed for your wedding!