Dr. Kanwal Bawa Cancer Warrior & Ms. Florida U.S. Continental 2021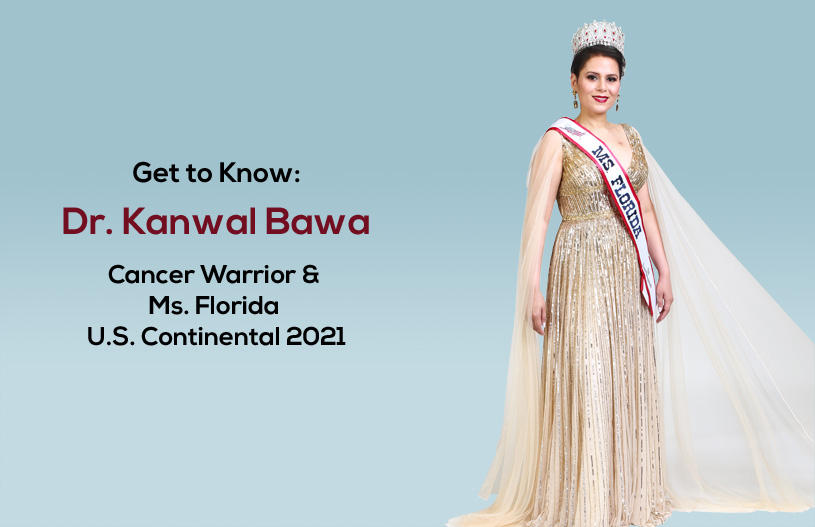 When did you arrive in the US, and why?
My ex-husband is American and I met him in New Delhi where he was living for work. We moved to the US in 1999, about a year after we got married.
Tell us a little bit about your career and how you came to be where you are today.
I obtained two degrees in English Literature, one at the University of Delhi (Lady Shri Ram College) and one at the University of North Carolina at Charlotte. I then attended medical school at Nova Southeastern University College of Osteopathic Medicine in Ft. Lauderdale, Florida. I completed my internship and residency in Emergency Medicine at the Cleveland Clinic in Cleveland, Ohio. While I loved being an Emergency Medicine physician I felt that my calling was in cosmetic surgery, aesthetics and wellness. At this point I trained in hair restoration and transplantation, laser surgery, skin rejuvenation, male and female sexual health, hormone and IV therapy, weight loss, body contouring and more. I opened the doors of Bawa Medical in September 2019.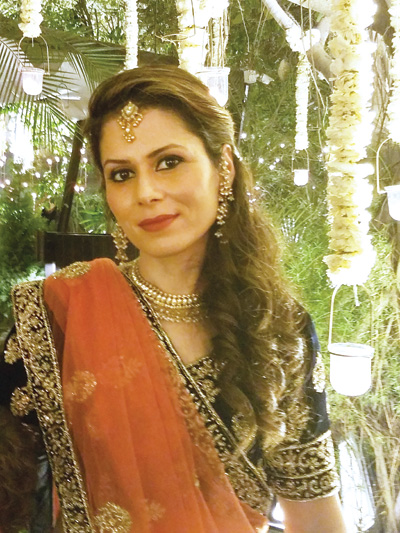 How did you come to be known as Rejuvenation Queen?
My practice Bawa Medical in Boca Raton, Florida specializes in all things rejuvenation. I became known for helping people become better from the inside out. My facial rejuvenation and non-surgical facelift can take people back 10 to 20 years in time. I perform both surgical and non-surgical procedures for male and female hair loss, as well as eyebrow and beard restoration and transplants.
My intimate wellness treatments for male sexual issues like Erectile Dysfunction and various female issues are so effective that we are saving relationships and bringing joy back into lives. I also do PRFM (platelet-rich fibrin matrix) based treatments which use your own growth factor and blood. I am one of just a few doctors in the world trained in and certified to perform the Vampire Facial and Facelift, and the P-shot for male sexual enhancement, and the O-Shot and Wing Lift for female sexual health. I now also use exosomes for more potent rejuvenation.
I also developed a strongly anti-aging skincare line as well as an organic skincare line called Bawa Medical Skincare which is sold on my website as well as in my office. So as you can see, I do more rejuvenation than others around me, and so many different types of rejuvenation, that I came to be known as the queen of all things rejuvenation and finally, Rejuvenation Queen.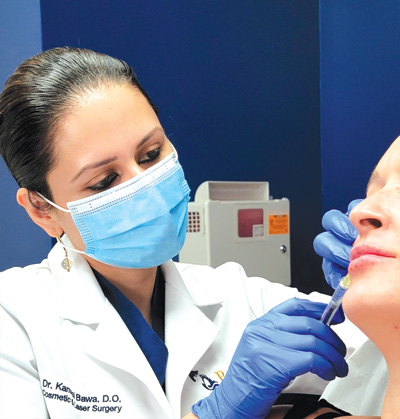 You were crowned Ms. Florida on June 12th 2021. How did that come to be?
That is a loaded question! Having lived a life rooted in academia and medicine, Ms. Florida was never on the horizon for me. It was not that I looked down upon pageants. I simply did not consider them to be something I would ever do. Being diagnosed with breast cancer at the age of 42 changed everything. I had been misdiagnosed for almost 3 years despite going to my doctor when I felt a lump. Mammograms and ultrasounds followed but they would not order a biopsy. I was told to stop being such a doctor and that the lump was benign.
In November 2020 I went back for that same lump and demanded testing. That lump was diagnosed as cancer, but now, instead of one lump, there were more. Being diagnosed with cancer was surreal. My life flashed before my eyes. I thought about all the times my concerns were dismissed. I am a single mother, and I thought about my sons. I also had a new medical practice. My family was overseas, and this was happening amid a worldwide pandemic. The timing could not have been worse. What was I going to do? How was I going to make it?
I decided that my cancer could not be just about me. It had to be bigger than that. I had to do something to raise awareness about cancer especially in those considered low risk. The other seminal decision I made was that I had to do something to inspire cancer patients to keep the faith, and to live their best lives despite cancer. I never lost hope and I did not want them to. I also refused to feel any less beautiful just because I was undergoing truly horrific chemotherapy side-effects. What better way to challenge myself and inspire others than to enter a beauty pageant while undergoing chemotherapy?
On June 12th I walked onto stage in a gown just a month after my mastectomy. My port scar was clearly visible, and I refused to apply makeup to hide it. I also refused to wear a wig or any hair extensions. I was there to inspire cancer patients so hiding my cancer was not part of my plan. I spoke my truth in more ways than one, and was crowned Ms. Florida U.S. Continental 2021 in front of my mother, my sons and my dearest friends. As far as I am aware, there has never been a beauty pageant winner who has been actively undergoing cancer treatment while competing. So, in many ways, my win is groundbreaking.
I must give credit to the U.S. Continental pageant for taking a chance on me despite my cancer treatment and for my medical team at the Sylvester Cancer Center (University of Miami), without whom I could not have walked onto the stage that day. They saved my life and for that and more, I will be forever grateful.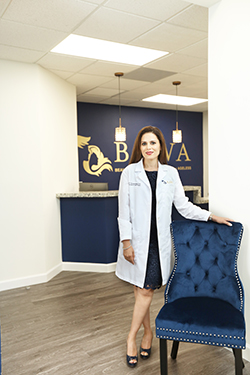 Tell us about your philanthropy.
I have always tried to live a life of service. I am part of the Rotary Club of Downtown Boca Raton. I am also mentoring a lovely young lady I met through the Eda and Cliff Viner Community Scholar Foundation. And last but certainly notthe least, I am an ambassador for the American Cancer Society's ResearcHERS initiative to raise funds for women-led cancer research. I did not know until I was a cancer patient myself that of the 49 Nobel laureates funded by the American Cancer Society, not one has been a woman. The ResearcHERS program raises funds for female researchers for all kinds of cancer, not just breast cancer. I have been interviewed on ABC News about it and am actively fundraising through Bawa Medical. I am now cancer-free but this is my mission in life. Cancer cure may not come during our lifetime, but it could for our children and grandchildren, and I will do my part to make that happen.
What challenges did you face as an immigrant trying to establish a successful career in the US?
Becoming successful is an arduous process in and of itself. I don't think that my status as an immigrant ever held me back. I had great professors. I made lifelong friendships. I received low interest loans to pay for medical school. I made it to a great medical school without any contacts. I was also accepted into one of the most prestigious residency programs in the world at the Cleveland Clinic. I have since had a successful career in both Emergency Medcine and at my Boca Raton practice Bawa Medical. America has been good to me. This great nation has always rewarded my hard work with success.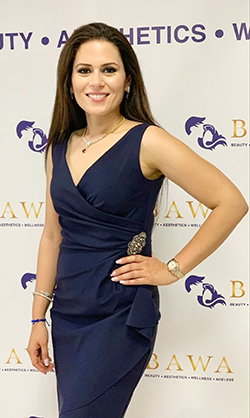 How would you compare life in the US today to when you first arrived? How does it compare in terms of opportunities, culture, or any other aspects?
I was always accepted by the US both personally and professionally. I had opportunities then and I do now. The importance of my effort cannot be underrated. As long as you are willing to put in the blood, sweat and tears, you will be rewarded with both respect and success. I never used my status as an immigrant as an excuse for my own inadequacies, and my career speaks for itself.
New immigrants to the US often have great dreams of achieving their goals. What guidance would you give them?
Work hard. No more no less.
Is there anything you feel you would still like to accomplish?
There is always something to accomplish, and another mountain to scale. My practice serves people both in the local area as well as from other states and countries. I hope to spread the word about my unique brand of rejuvenation and wellness, and I invite the Asian community to learn more about the various services we offer. I also hope that the readers of your magazine will donate to my fundraising page for the American Cancer Society's ResearcHERSinitative.
https://www.bawamedical.com/about/my-cancer-journey/
Favorite Book: As a lover of literature this is a tough question to answer. A couple of my favorites are "Memoirs of a Geisha" and "Outliers."
Favorite Indian Movie: Another tough question. A few of my favorites are Ae Dil Hai Mushkil, Hum Tum and Zindagi Na MilegiDobara.
Favorite Non-Indian Movie: Top Gun
---
Dr. Bawa's social media:
Website: www.bawamedical.com
Instagram: https://www.instagram.com/bawamedical/
YouTube: https://rb.gy/8xr8ia
Facebook: https://www.facebook.com/BawaMedicalBocaRaton/
Emergency Medicine at the Cleveland Clinic in Cleveland
Emergency Medicine physician
cosmetic surgery, aesthetics and wellness
female sexual health
hormone and IV therapy
Bawa Medical, Bawa Medical in Boca Raton
facial rejuvenation
non-surgical facelift
wellness treatments, sexual issues
Erectile Dysfunction
platelet-rich fibrin matrix
perform the Vampire Facial and Facelift
anti-aging skincare
Rejuvenation Queen
lump was diagnosed as cancer
worldwide pandemic
cancer patients
beauty pageant
Sylvester Cancer Center
University of Miami
Rotary Club of Downtown Boca Raton
Cliff Viner Community Scholar Foundation
ambassador for the American Cancer Society's ResearcHERS initiative
Nobel laureates funded by the American Cancer Society
ABC News
Memoirs of a Geisha" and "Outliers book
Ae Dil Hai Mushkil
Hum Tum
Zindagi Na MilegiDobara